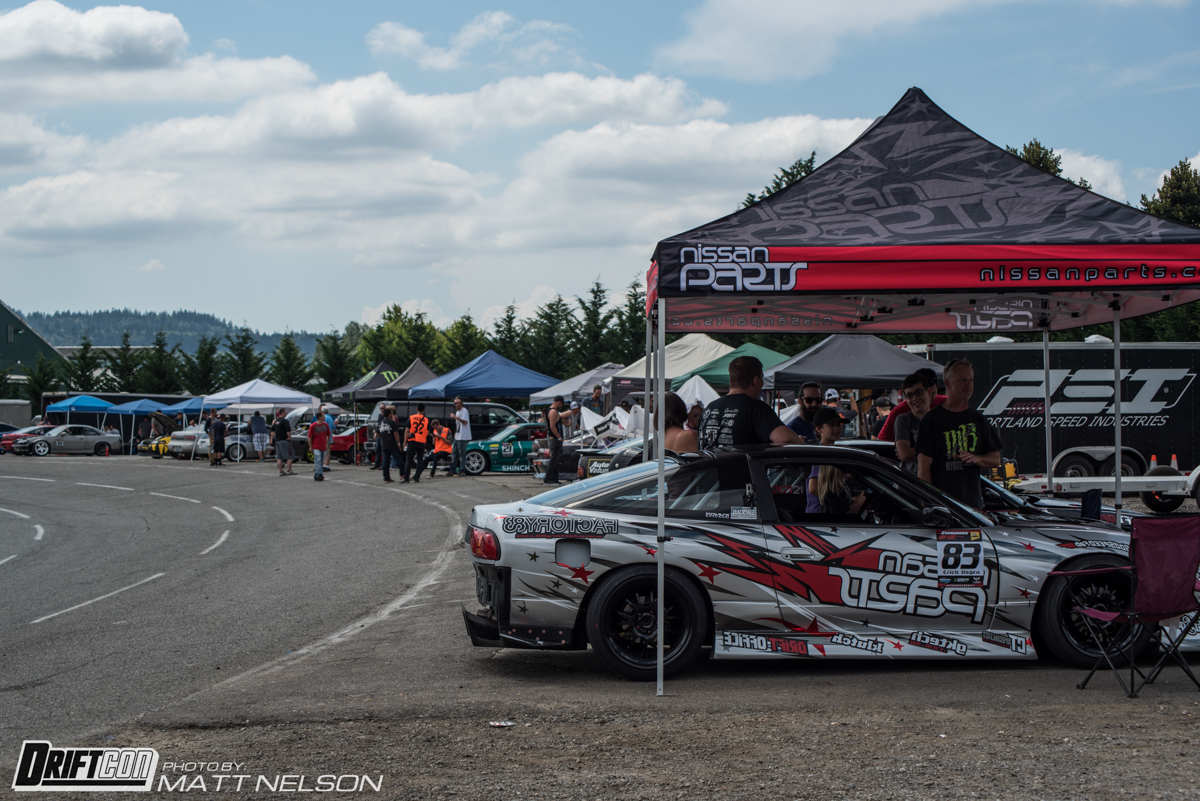 Northwest drifters returned to Evergreen Speedway on July 17th for the third round of competition in the 2016 EVD ProAm Series. As the season and standings continue to develop, we're starting to get a picture of who the top drivers are this year. In addition to cash and contingency prizes there are also Formula Drift Pro2 licenses up for grabs for the top three drivers at the end of the season. With just 2 rounds of competition left, it's obvious that drivers are starting to feel the pressure to perform at their absolute best.
Photos by Matt Nelson. Story by Mat Risher.
While making it through a full day of drift competition is an accomplishment in itself, being able to commit to a full season is a lot to ask of both car and driver. Doing this it introduces a completely different mentality for drivers as they are required to strategize and plan their runs a bit more. While all the ProAm drivers are seasoned and skilled, there is always some learning to be done both on and off the track.
Showing up for only competition rounds might not be enough anymore. The drivers who take advantage of open drifts and other practice days show a level of consistency that is needed to win the championship. It's also important that drivers maintain their equipment to a high standard. Letting their weapon of choice collect dust is not an option if they want to be on the podium at the end of the season.
Round 3 is crucial for setting up points heading into the tail end of the season. If a driver isn't ranked at least in the top 6, it's most likely that a Pro2 license is out of reach this year. A total of 21 drivers made it out for round 3 which was held on the classic 3/8 banked layout. With how familiar many drivers are with this layout I went into the event expecting some stellar driving from many drivers.
Qualifying proved just how comfortable many of the drivers were with the layout. However, there are always a few drivers that seem shaken by the nerves of competition. For many drivers the stress of the entire day riding on two runs is too much. Dio Ortiz was not one to be phased. He threw down a super energetic first qualifying run, but ended up stepping 2 tires off and got a 0. With just one run remaining, one would think Dio might play it safe – WRONG. After the random mechanical issue at DriftCon I could tell that he was determined to do well. He came back stronger than ever and qualified in third place.
More familiar faces dominated qualifying, with veteran Matt Vankirk and Travis Reeder rounding out the top qualifying scores of the day. One surprise that would cause an upset in points was Tyler Campbell failing to get in a qualifying run. His car ran into some sort of issue which forced him to spend the rest of the day in the pits. With Tyler out of competition there were a total of 20 drivers in the main event.  A new bracketing system introduced in this round meant no bye runs into Top 16 (who likes solo runs anyway?).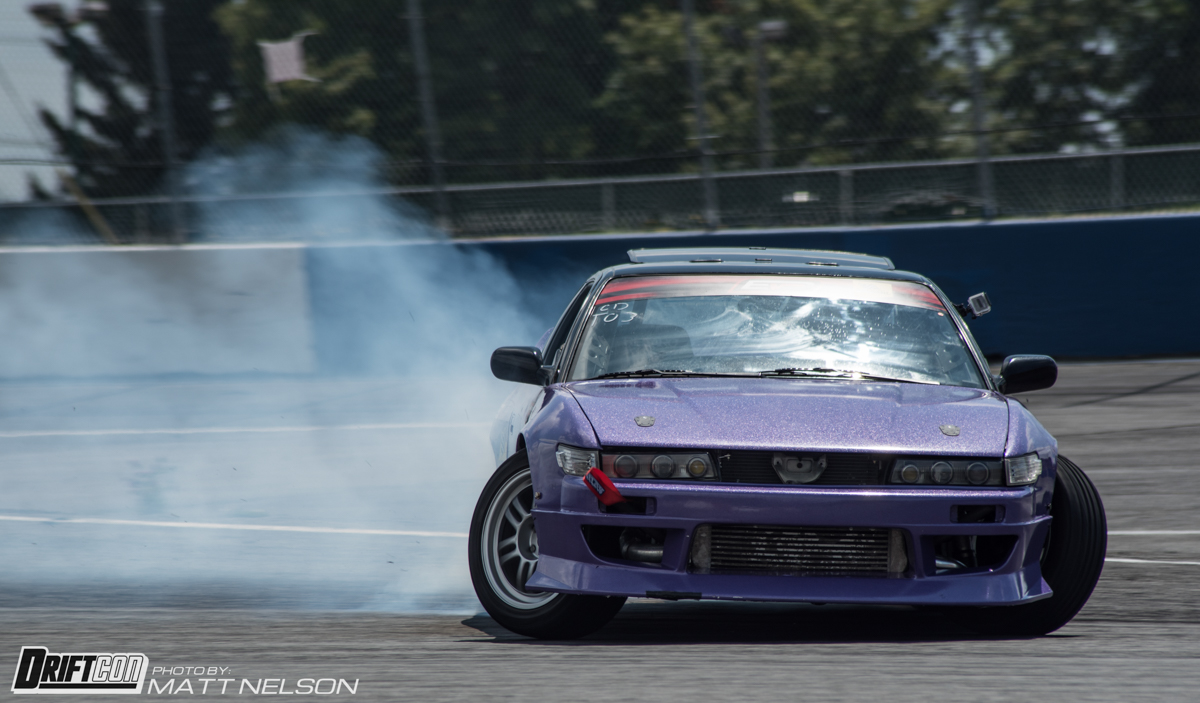 Competition is nearly always unpredictable; which I like. It's good to have expectations of drivers before they hit the track, but with so many variables in drifting, truly anything can happen. The 8 lowest qualifying drivers battled for the remaining top 16 spots. A surprise was seeing Arie Abrams not make it into the Top 16 which was probably attributed to some sort of engine issue.
Chris Johnson made an appearance at his home track coming back from Florida and his Pro2 adventures.  Chris is always out for more seat time which is great to see. He was paired up against Aaron Mansfield – also in a built S14.5. Chris fell victim to the gremlins at large and was forced to forfeit his battle. Best of luck to Chris and his team down at Formula Drift Texas for the next Pro2 round!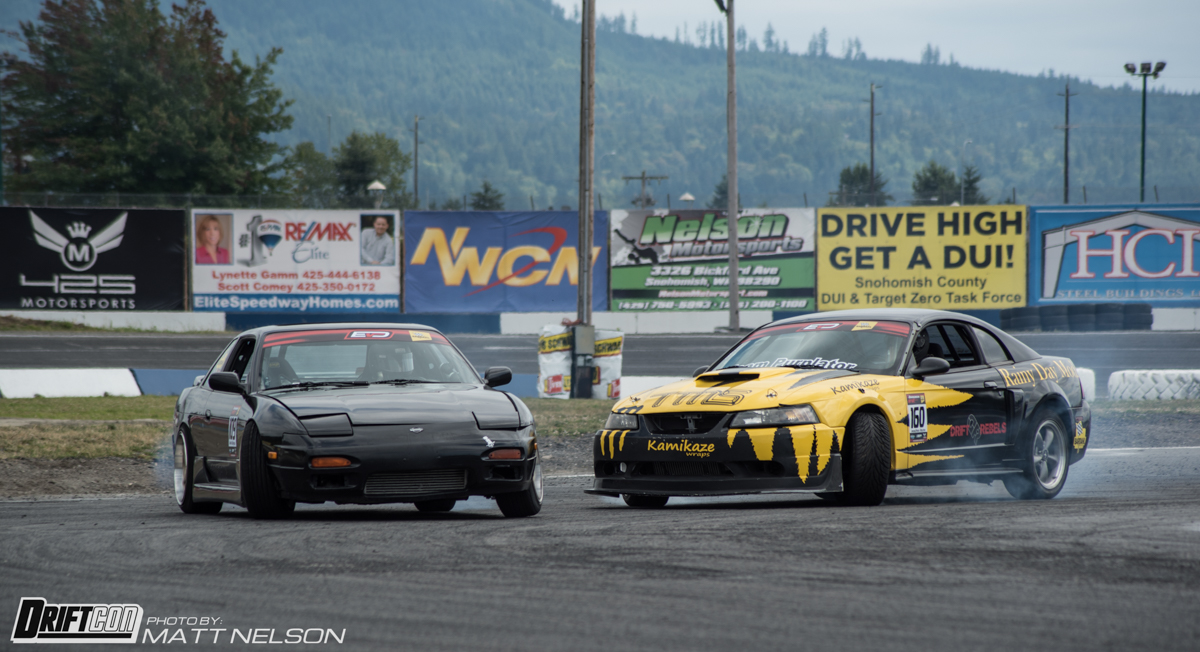 Gaston Morrison and Jonathan Burns also battled for a Top 16 position. It was a close battle at first which led to a OMT verdict. Gaston always puts on a great show but his car lacked to speed to keep up with the rest of the ProAm field. The next weekend he did end up on the podium at EVD Grassroots though.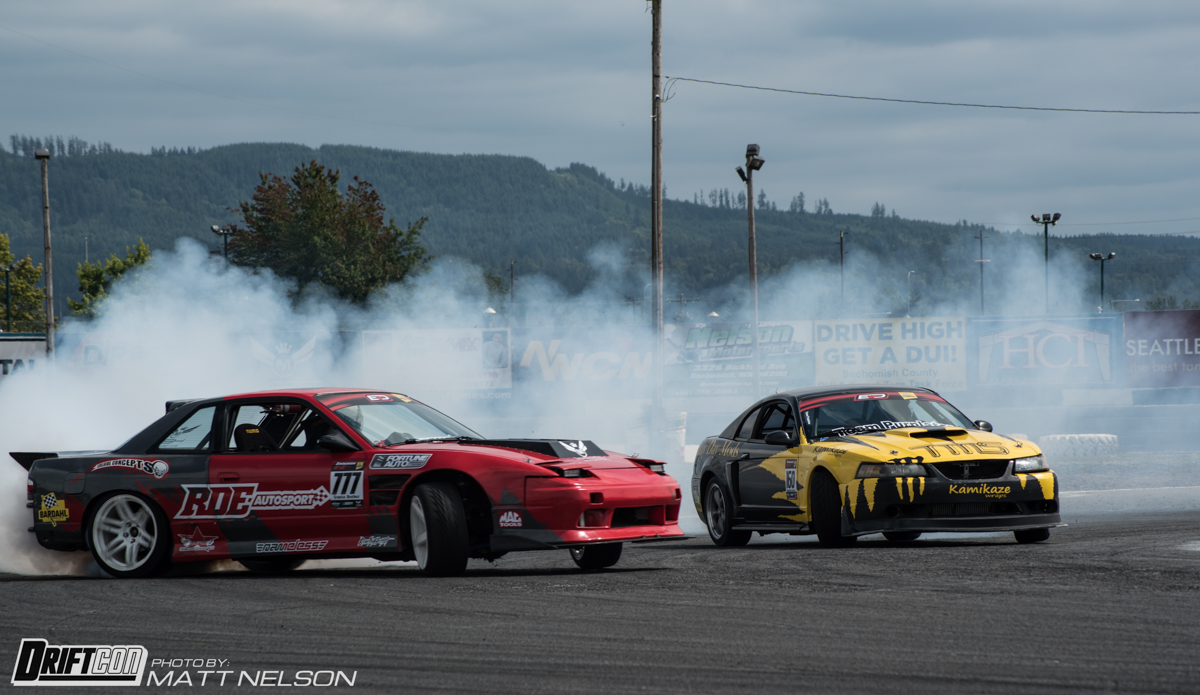 With Top 16 set, it was a good mix of familiar names on the grid. With a facelift and a few new sponsors on board this season – Jonathan Burns was holding it down for the domestic field. He continues to look more settled in his turbo Ford Mustang at every event. His battle against the defending points leader Travis Reeder was a tough one, and Travis's intense proximity netted him the win.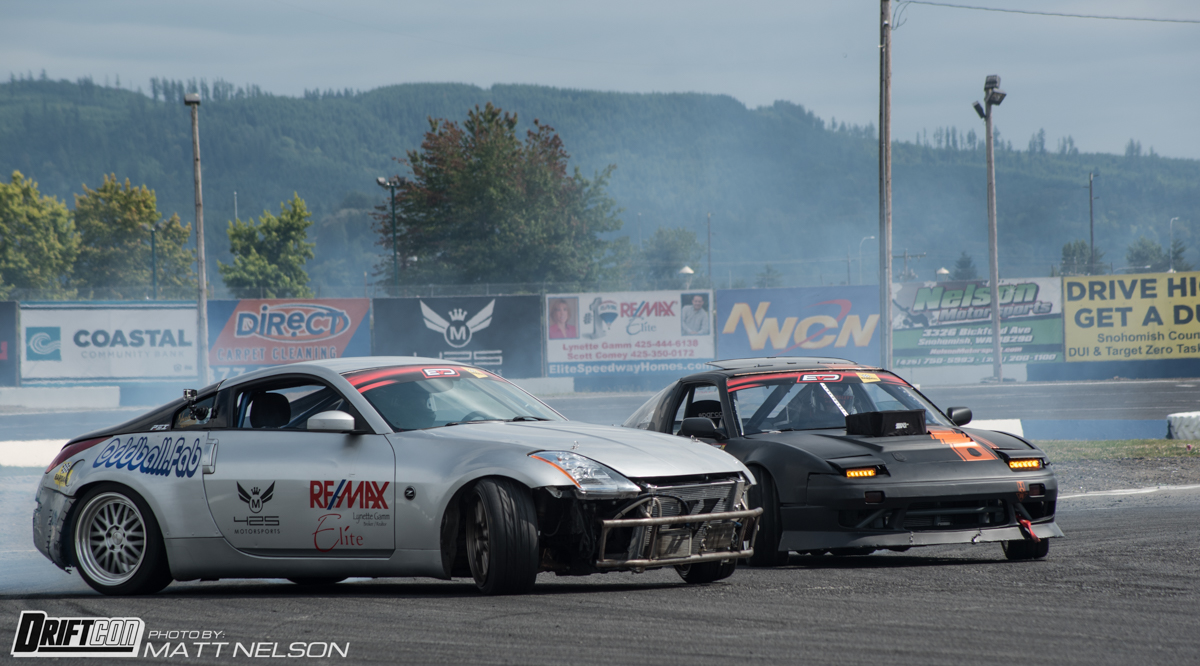 Tyler Grimsley still seems to be settling into his new setup. Sometimes the smallest correction is all it takes to give the advantage to the other driver. With a fresh tune on his LS-powered 350Z, Matt Larkin was able to put down some smooth consistent runs and move onto the Great 8.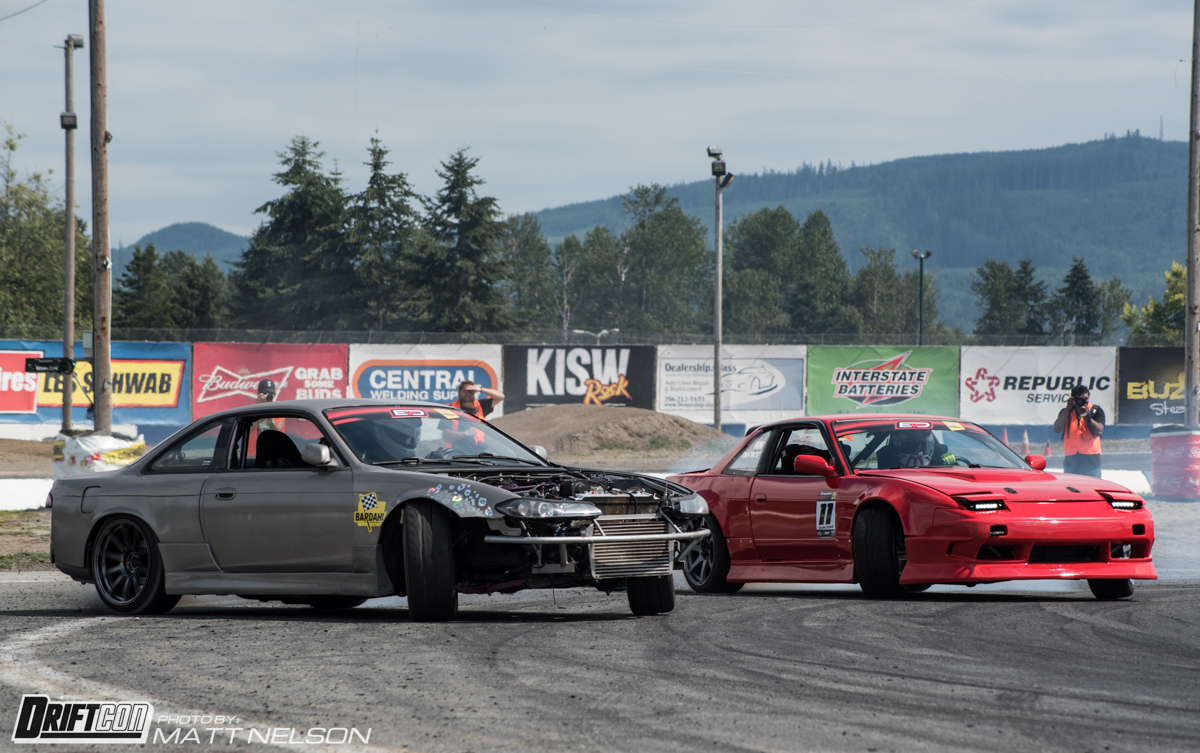 With Aaron Mansfield's competition car still under the knife, he instead drove his "street car."  While it is a formidable RB-powered S14.5 he was lacking the speed and angle to keep up with Brandon Schmidt who continued to defend his championship stakes.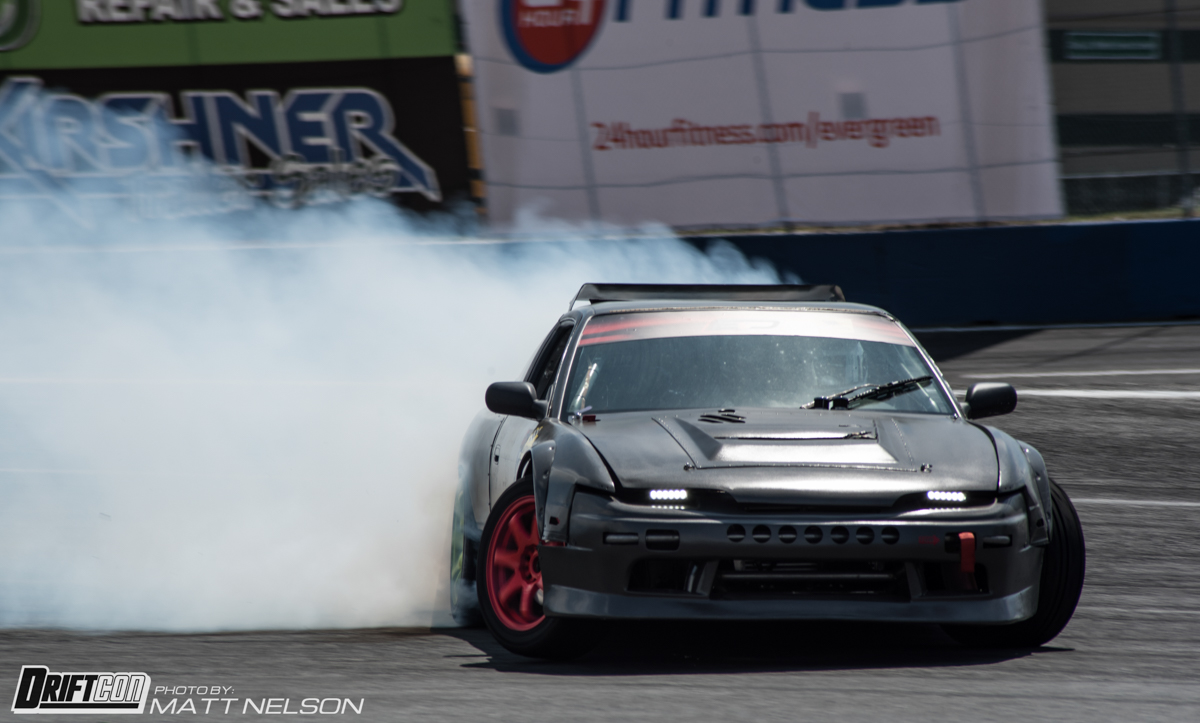 There was another set of OMT battles between Joseph Lin and Nate Snyder both resulting from each of them making mistakes on their chase runs. What would have been another awesome final battle between these two drivers resulted in Joseph Lin having to retire because of a broken axle.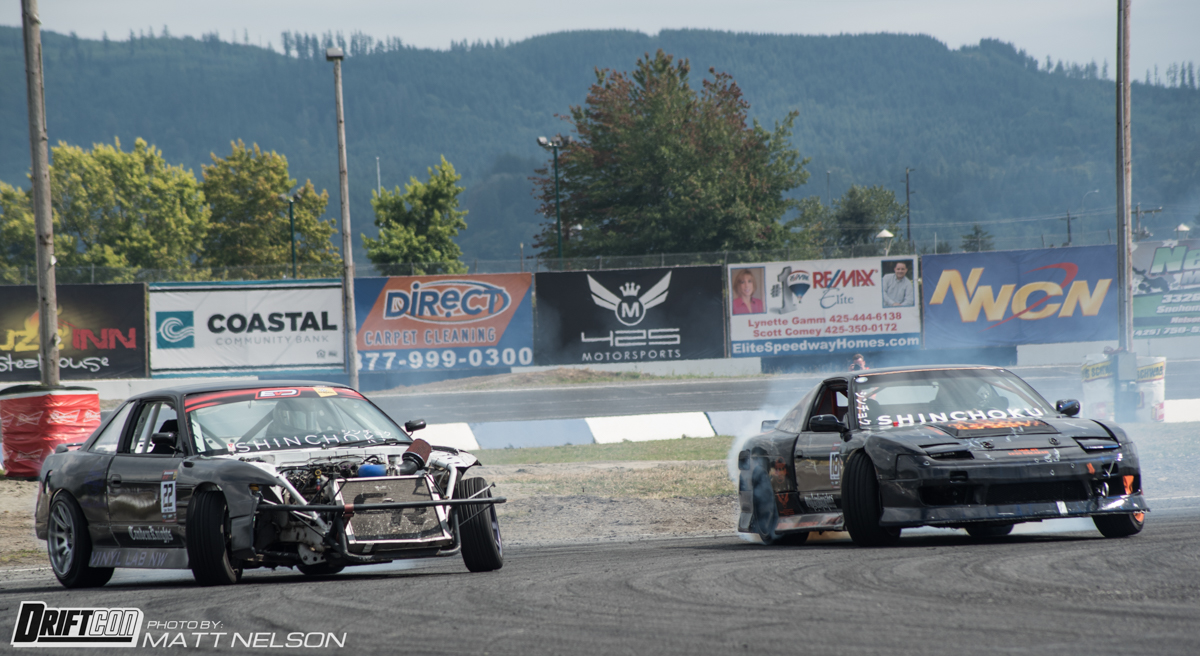 Cole Werner was paired up against last year's season champion Matt Vankirk. Lots of corrections on his chase run meant the win went to Vankirk.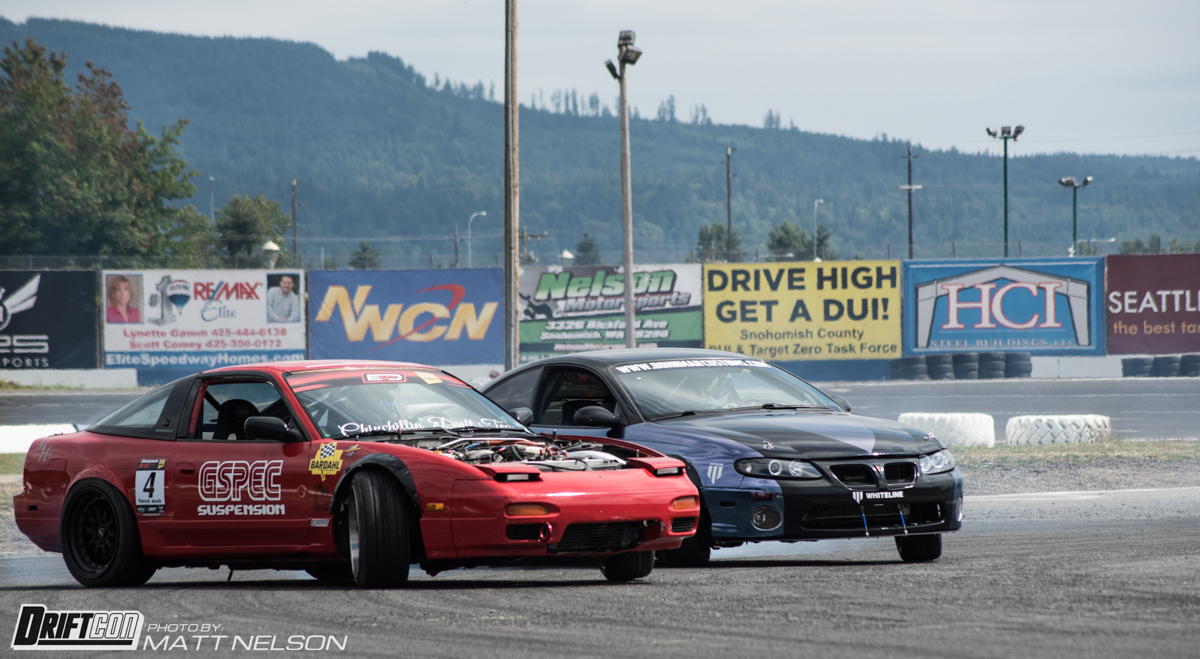 Patrick Heald is another driver looking stronger every event. Running the KA-T powered 240sx, he found himself in a pinch chasing the slower GTO of Eddy Gonzalez. Eddy would get the win and move onto the Great 8.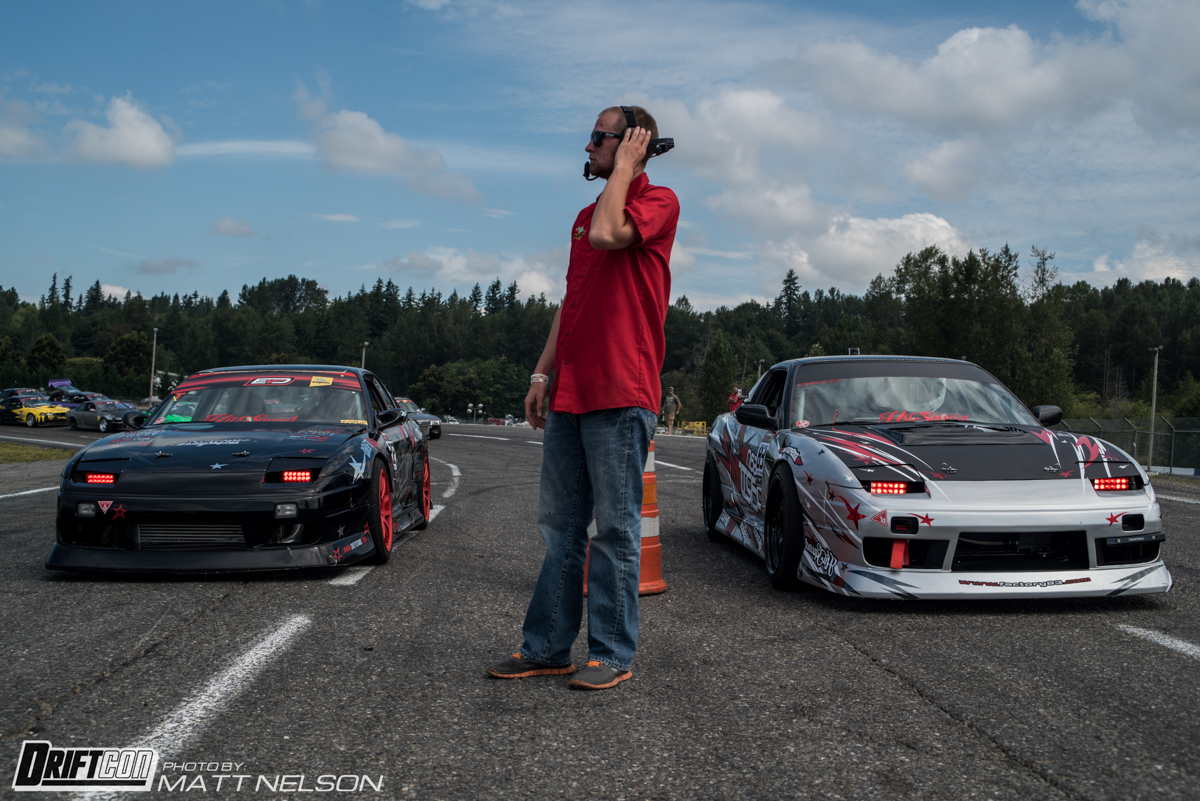 The best battle in Top 16 had to be the ironic pairing of Dio Ortiz and Erich Hagen. As teammates it's not often that I get to see them battle each other. Both having VQ-powered cars makes for very close battles. Nobody knew what to expect as the drivers made their first approach to the 3/8ths bank; when suddenly Dio in the lead began to wash over the crest kicking up dirt in a rallycross moment. What should have been a cakewalk for Erich, he stalled in the final hairpin which meant that both received a zero. This led the judges to declare a OMT.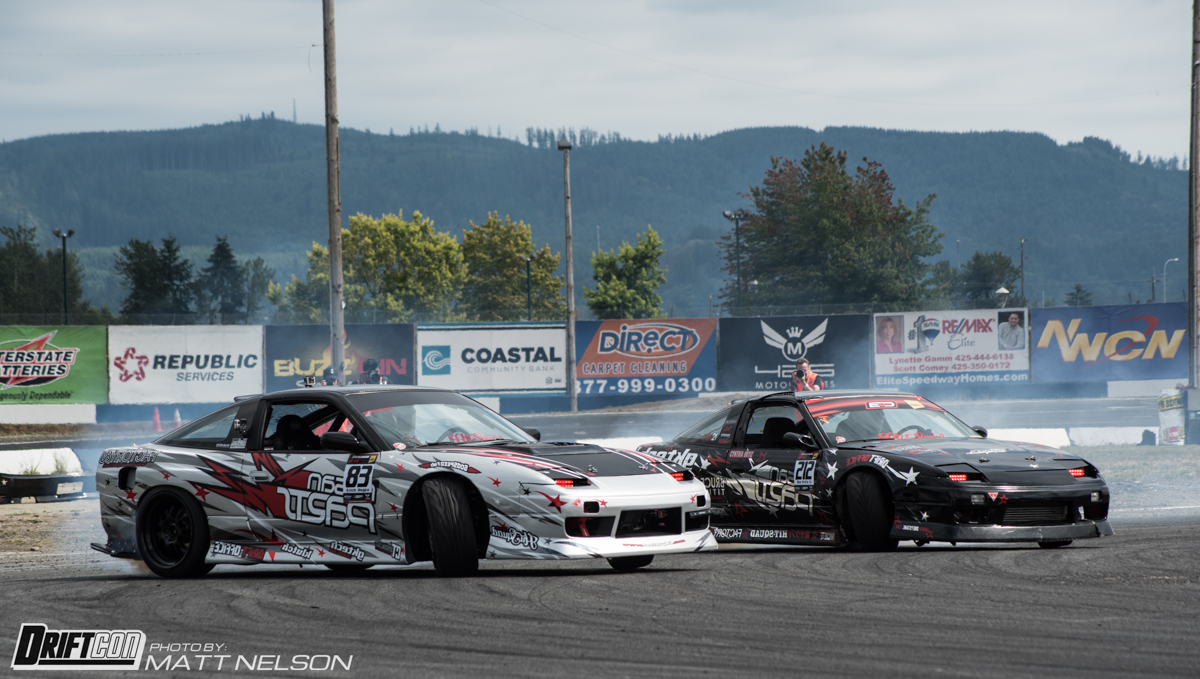 The next battle between the two Nissanparts.cc cars was much cleaner. It really could have gone either way or even resulted in another OMT as both drivers had very similar style. With another struggle by Erich at the final turn, it was Dio who took the win and advanced to the Great 8.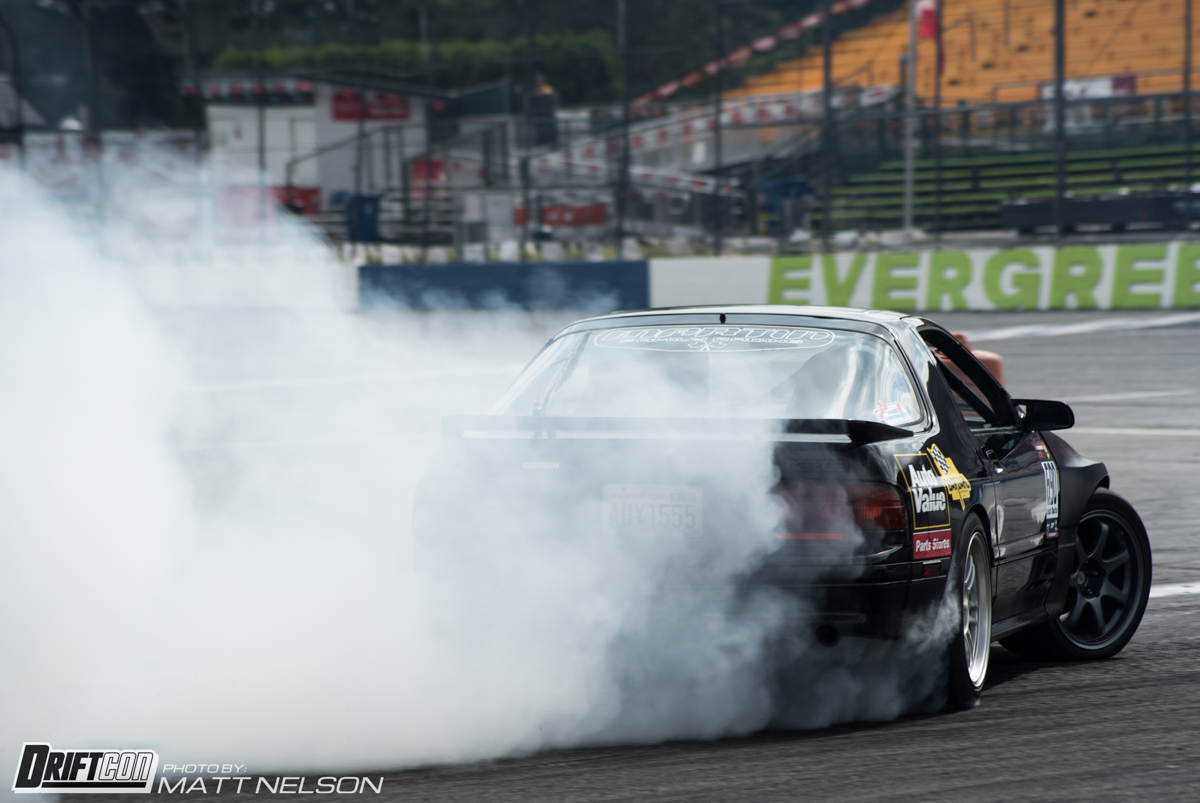 The last battle in top 16 was between Zach Farrar and Nick Martin. Nick is another newer but very promising driver this season. Piloting a V8-swapped FC Mazda RX-7 – he has been getting up to speed with the veterans very quickly. Zach was able to take the win over Nick this time, but I look forward to seeing Nick stir the pot the rest of the season.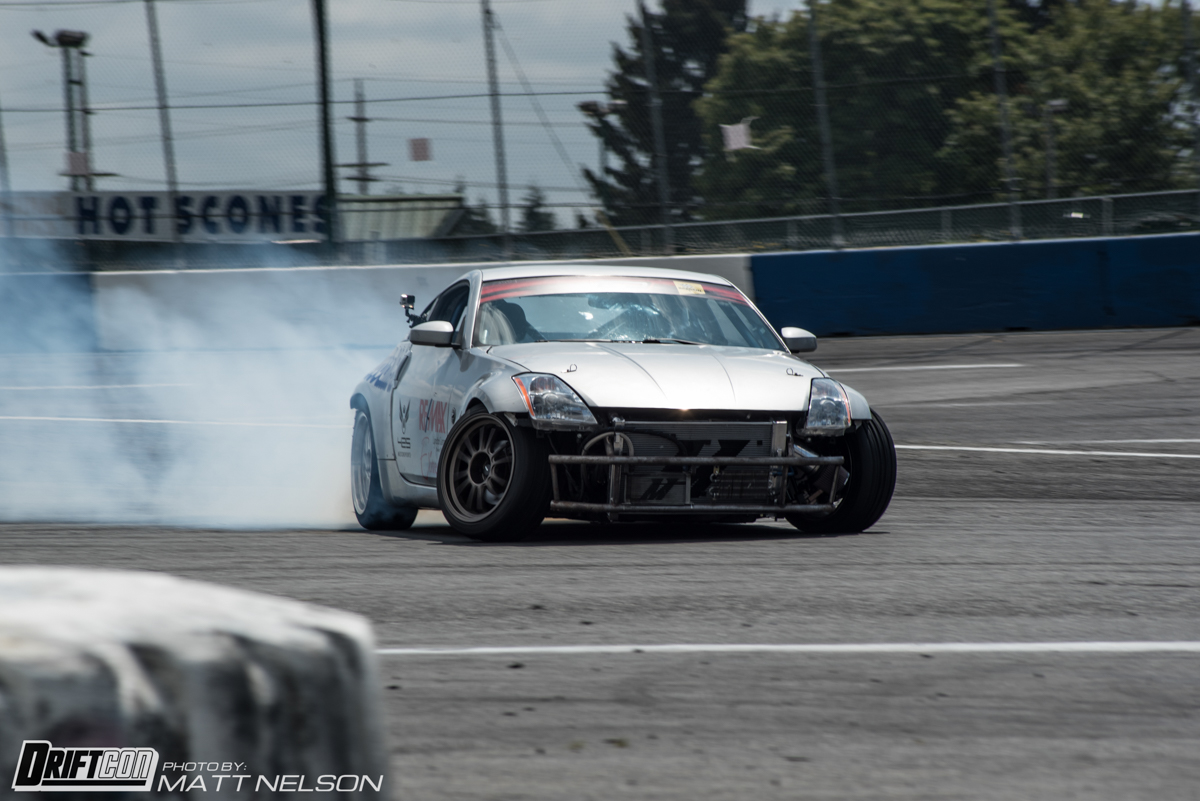 Battles begin to intensify as the day narrowed down to an end.  As mentioned before; Matt Larkin was looking stronger than ever in his 350Z. Despite his smooth driving he was no match for the stunning chase put on by Travis Reeder who was determined to hold his position at the top of the points board.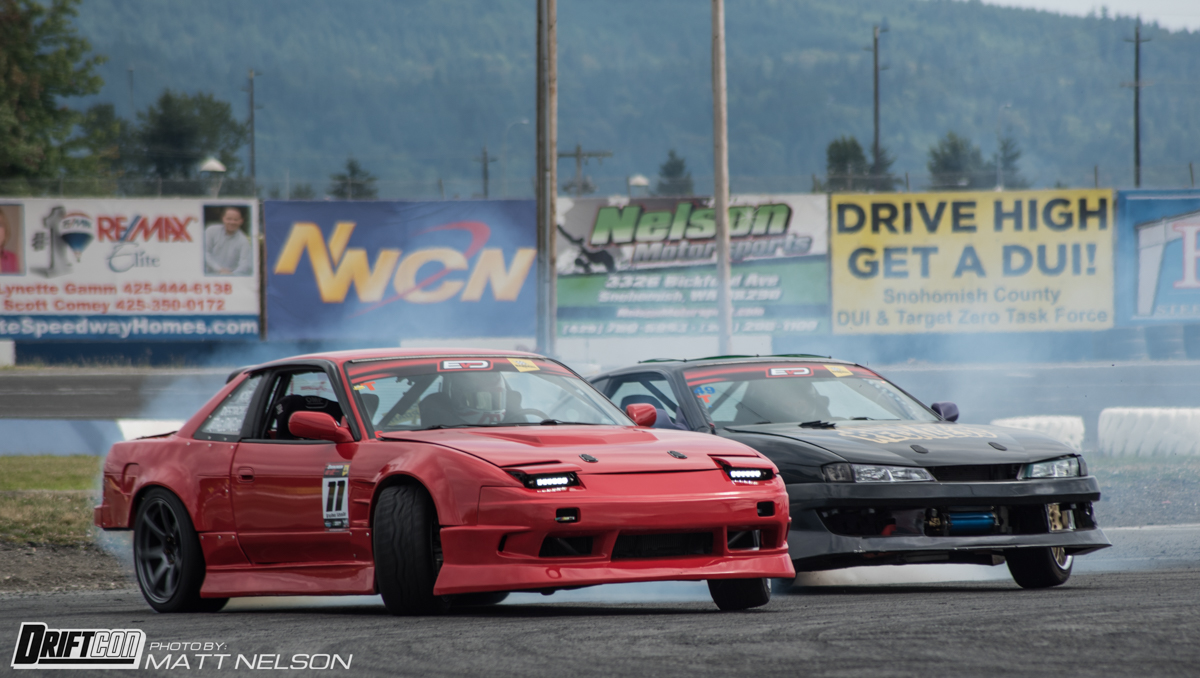 Brandon Schmidt is another force to be reckoned with on the track and would no doubt set the bar high in his battle against Nate Snyder. Nate was able to hold a solid chase run and flawless lead against the higher ranked driver. This was Brandon's first time not making it into the finals this season.  Brandon still is very likely to receive one of the Pro2 licenses as long as he continues to place well in the final two rounds.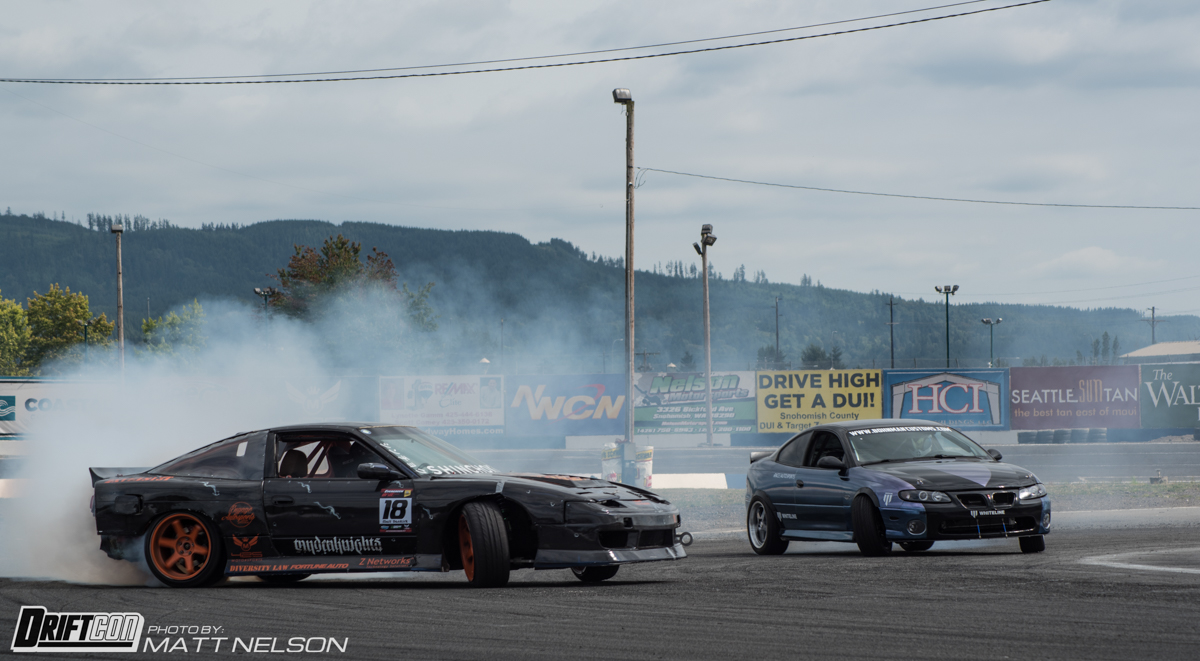 Eddy Gonzalez made the switch from a Mustang of past seasons to the newer Goat (GTO). He did well most of the day but was lacking speed in nearly all of his runs. Running slick and slower tires put him at a large disadvantage to Matt Vankirk. He had smooth driving as always but it was no match for Matt. I look forward to seeing him with a faster setup in the near future.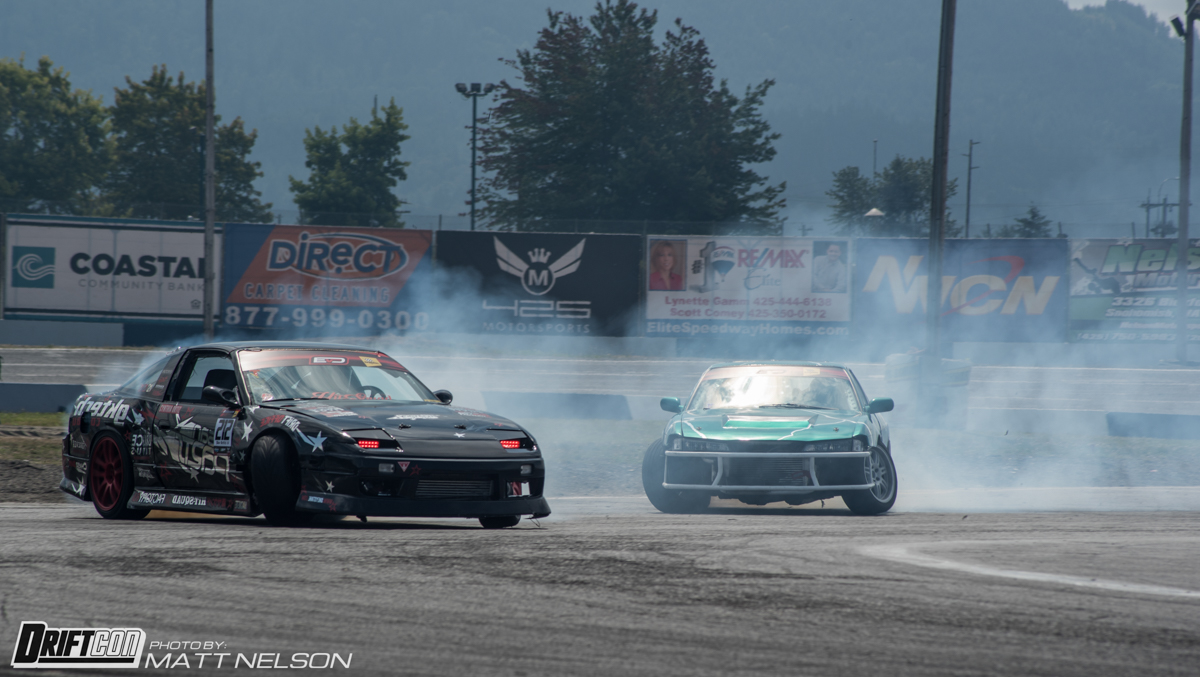 The final Great 8 battle pitted Dio Ortiz against Zach Farrar. It has been awesome to see Zach take a turn to professionalism and really present himself well this season. Dio continued to put the pressure on and with a chase run that was slightly lacking proximity and angle, Zach was knocked out.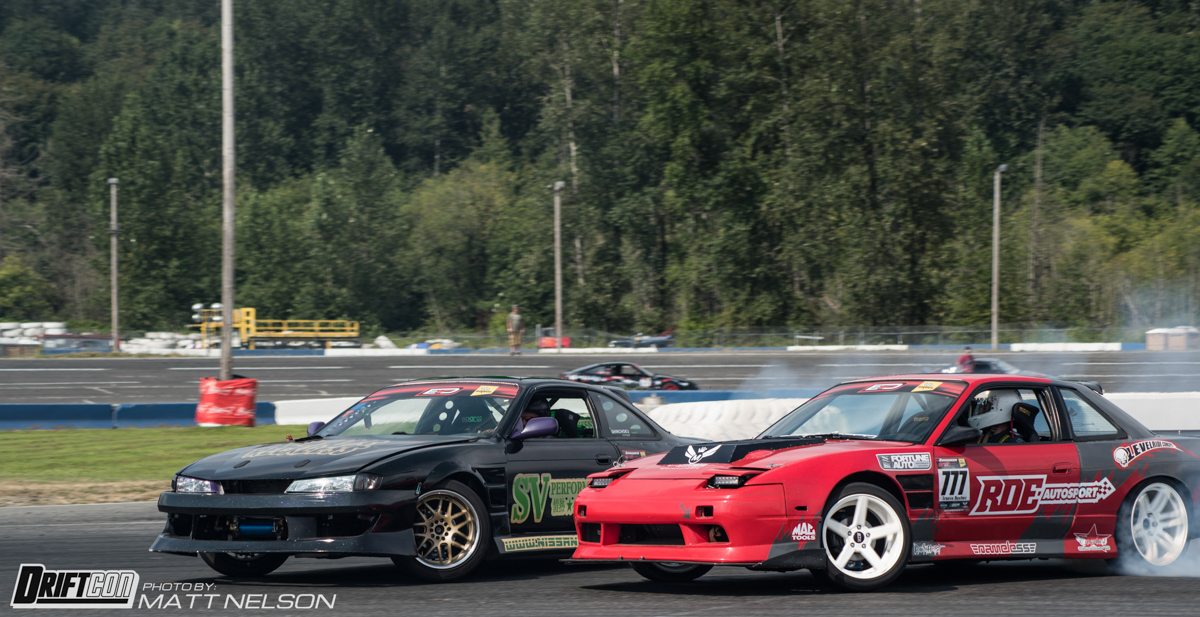 Travis Reeder vs. Nate Snyder.  Both highly capable drivers, but it was Travis' rocket ship speed that led to a gap in Nate's chase that he just wasn't able to close. Travis secured his spot in the finals with a clean chase run.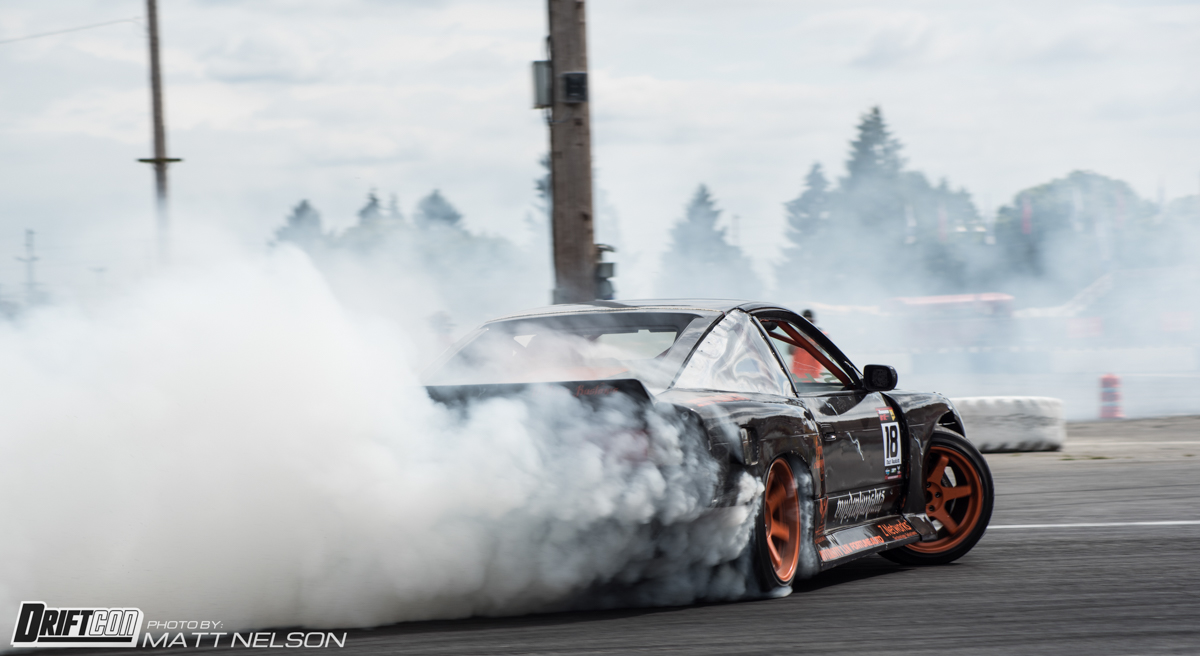 Matt Vankirk and Dio Ortiz. Both drivers were on point all day and honestly have never driven stronger. That was until Dio Ortiz understeered and straightened while chasing Matt. This gave Matt the advantage going into his chase run. Dio laid down a solid lead run but with Vankirk flawlessly playing shadow, Matt took the win.
The battle for third place, the last chance at podium was between Dio Ortiz and Nate Snyder.  Both drivers continued to the best of their abilities. There were no surprises on track just some very good tandem battles. Judges deliberated for quite a while but ultimately chose Nate Snyder to take the third place spot on the podium.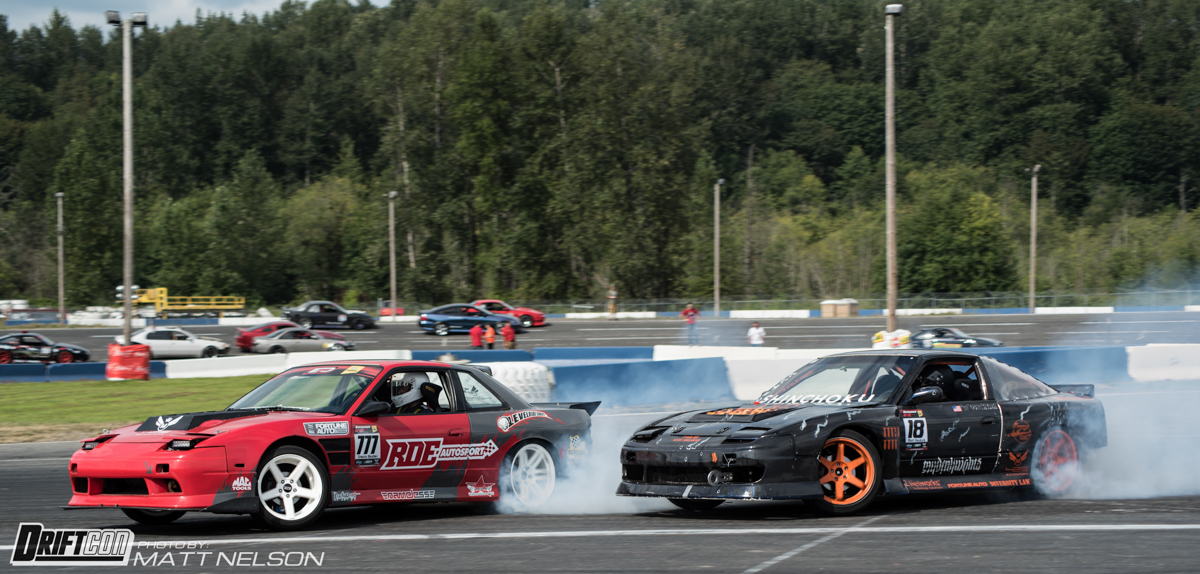 Travis and Matt Vankirk have been going back and forth all season long. It's been a WA vs. OR conflict. The first run was Travis leading and Matt giving chase. It was a drag race which led to a gap at the start but Matt was able to close the distance by the time they reached the end of the bank. Tight proximity coming through the power alley with Matt grazing the rear bumper on transition. With 0 stutter in style they both wrapped out the finish door to door.
It was Matt's turn to lead and the final run of the day. Travis was on his rear bumper from the start and looked to be making all the right moves. Ben Whyte was screaming on the mic as the chase continued through the finish. It was one of those battles that make you think: "I'm glad I'm not a judge."
The tire smoke cleared and drivers anxiously waited for the announcement. After some suspense building by Ben, Matt Vankirk was announced the winner of ProAm Round 3!
Heading into ProAm Round 4 less than 100 points separate the top 5 drivers, which means a whole lot can still get mixed up before the end of the year. The next round will be on the 5/8ths bank during the Evergreen State Fair in conjunction with the Grassroots comp. I'm looking forward to seeing which drivers return to tackle the big 5/8ths bank. Stay tuned for another recap!