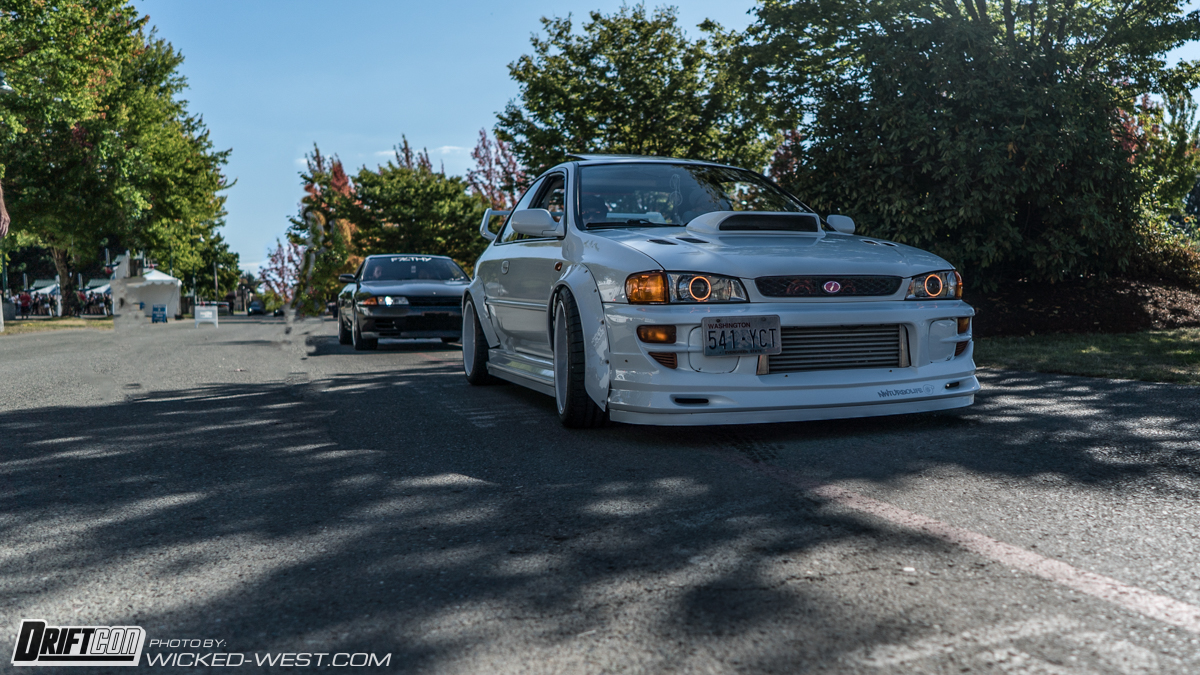 The skies were clear and the track was already hot as the grandstand gates opened up to spectators on September, 10 2016 - a Saturday afternoon. DriftCon Afterdark is staged to progression through the evening with a plethora of sights and sounds to keep any auto enthusiast entertained. Set in the theater that is Evergreen Speedway, more than 150 cars were registered for the show and VIP parking and nearly 30 drivers were on track.
Photos by Matt Nelson, Nick and Melissa Poirier, Eddi Hughes, and Kelley McKenzie. Story by Mat Risher.
With the car show area busy with fans and vendors, the action on track started with the finale to the EVD ProAm Championship. Drivers have been competing and earning points all season in hopes of obtaining a Pro2 Formula Drift license. With the point race coming to a close, this final round of competition was sure to bring out drivers determined to fight for the top championship position.
Drivers had plenty of time to adjust to a new track. The 3/8ths "Mini Jersey" layout had not been driven all season long and many drivers were unfamiliar with it. This layout provided a new challenge to drivers by being both high speed and technical in various sections. After practice, qualifying started around 2:30pm.  This is when the drivers would finally be judged on their ability to run the new track cleanly. By the end of qualifying, a total of 21 drivers would get scores and make it into the main competition.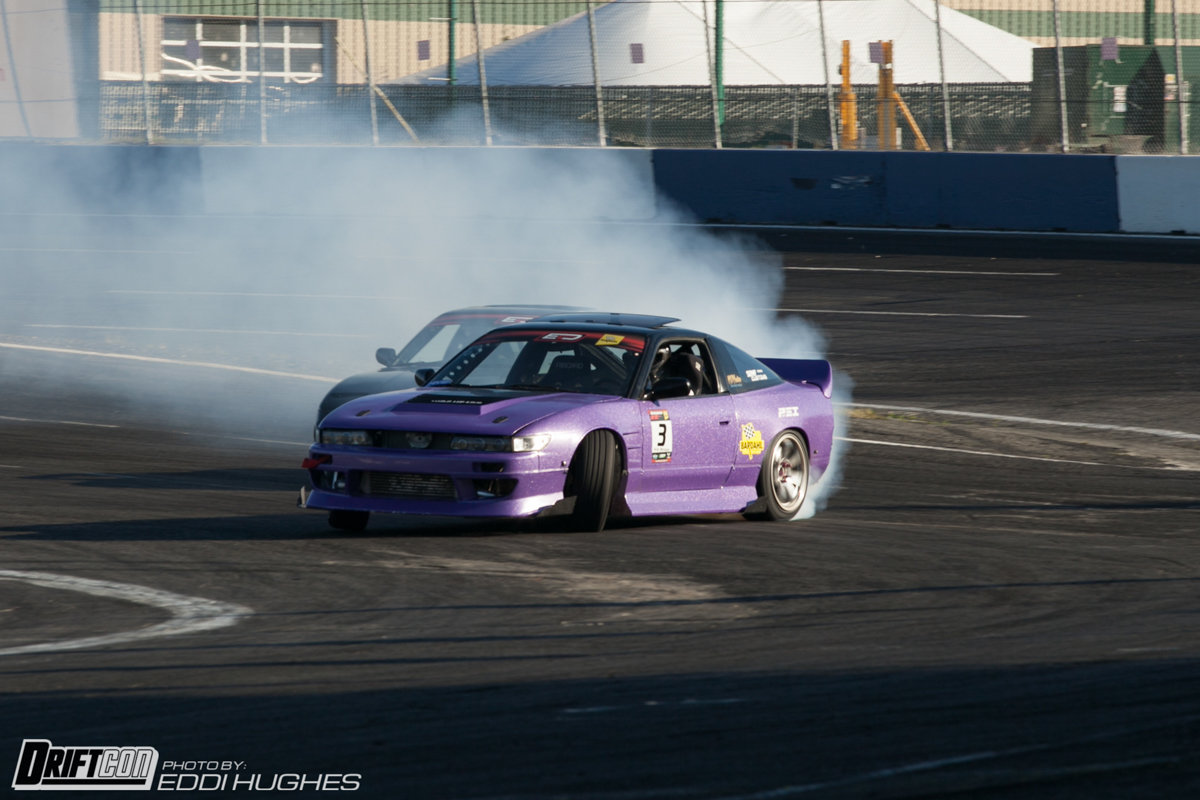 With the brackets arranged, the first round of competition was set to determine the Top 16 drivers. Evergreen has a new bracketing system in place which allows them to skip the solo or "by-runs" and head straight into tandem battles. One of the highlights from this first round of battles was a very close fight between Gaston Morrison and Arie Abrams – first round resulted in a OMT, but Arie remained the cleaner driver and took the win.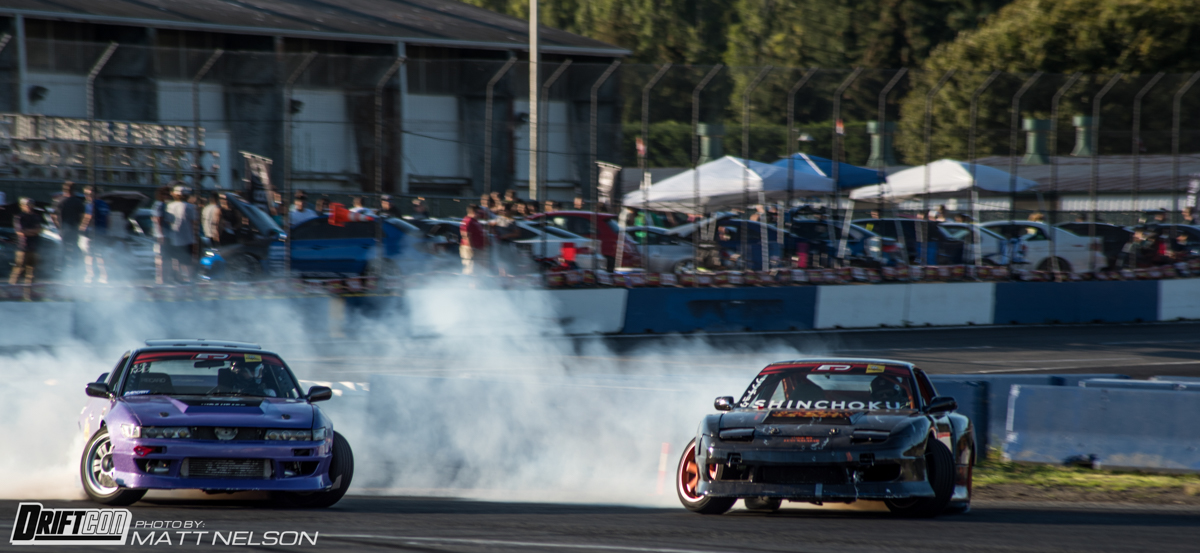 Top 16 was a mix of both seasoned and new drivers, with the veterans defending their points and driving hard throughout the day. In a surprise to many, one of points leaders; Matt Vankirk, seemed to fall victim to some sort of mechanical issue and went off the line in his battle against Arie Abrams. After some dispute and deliberation, Vankirk was eliminated early from the competition and his standings were put in danger.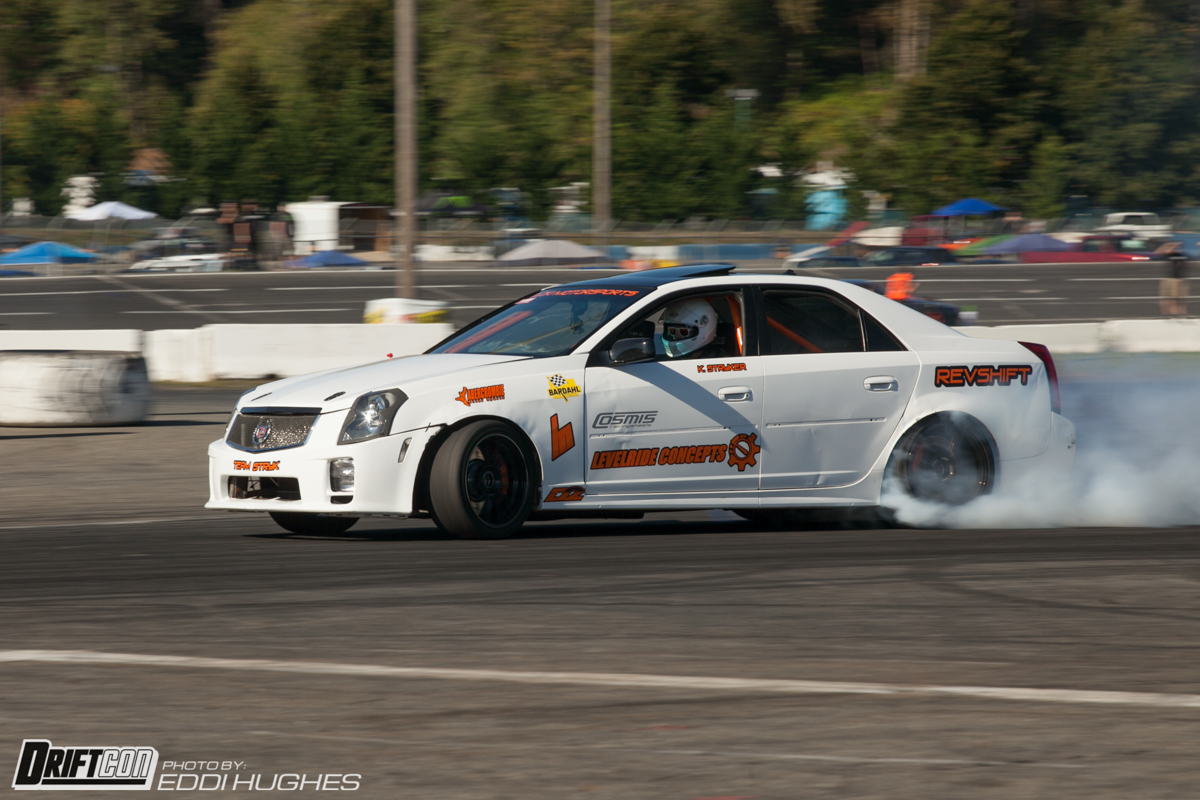 Kyle Stryker was one of the new faces competing at round 5, coming up from Oregon in his white and orange Cadillac CTS-V. His car was an instant crowd-favorite. After knocking out Casey Littlejohn in the first round of battles, Stryker found himself against Brandon Schmidt, one of the top drivers all season. His fight against Brandon was very well fought but ultimately Kyle was eliminated. I think Kyle is going to be a force to be reckoned with in 2017.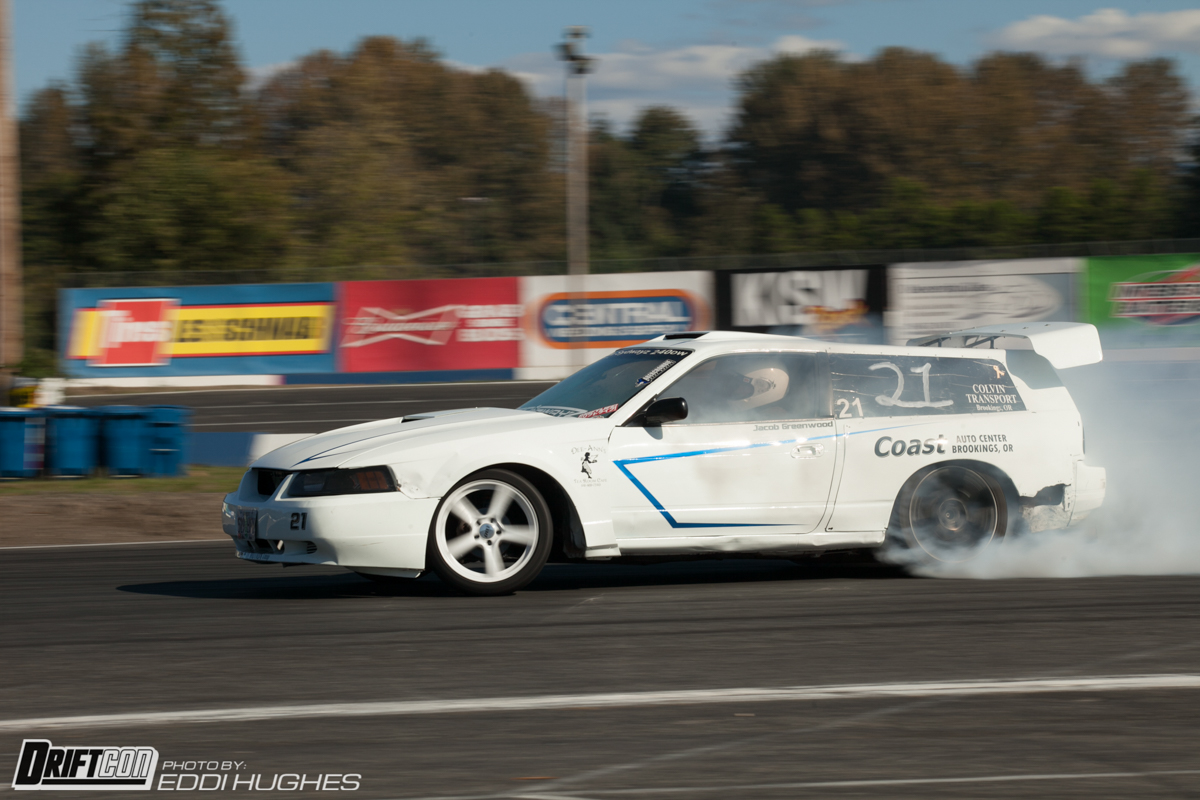 More new faces in the ProAm field included Lucas Durado and Jacob Greenwood. Lucas was piloting the former FD-car of Victor Moore, now sporting a JZ powerplant. Lucas was knocked out by Nate Snyder in the Top 16.  With the most unique cars, Jacob Greenwood from Medford, Oregon had the most zombie mixed creation of a car I've ever seen. It was an S13 hatch converted to a wagon with a Ford Mustang front end. Tyler Grimsley would make easy work of him and get the win to move onto the Great 8.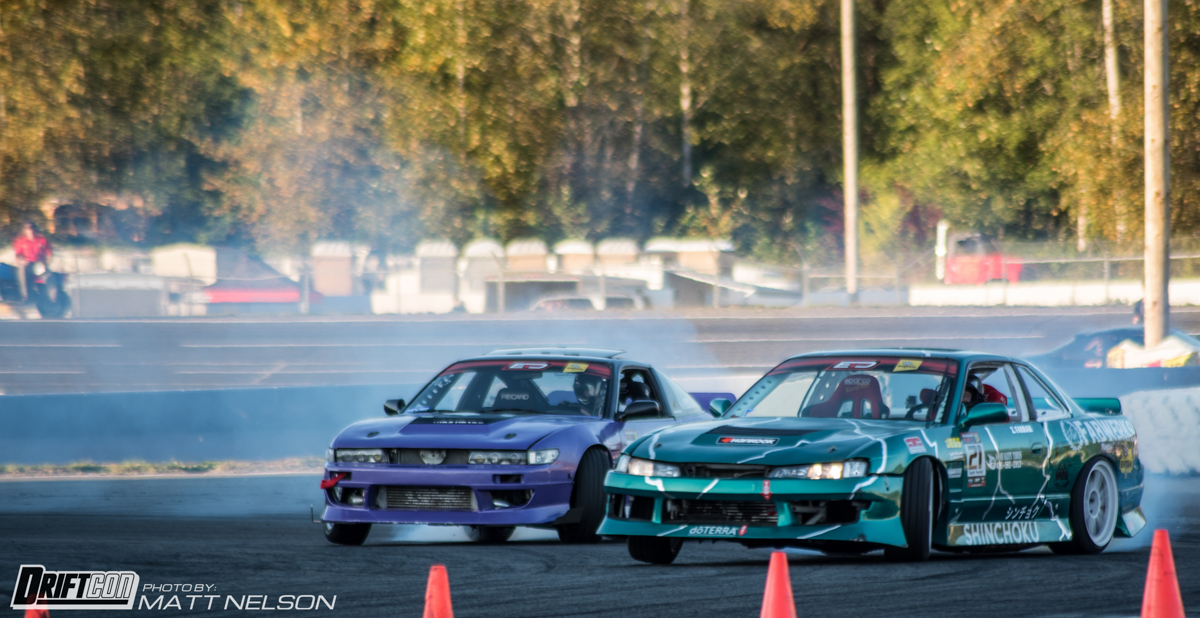 Heading into the Great 8 the battles started to intensify. The first was a battle of the Nissans pitted Arie Abrams and Zach Farrar. Zach Farrar really found his groove at this event and laid down some solid lines. Arie was looking solid out front during his lead run, but over rotated around the nose clip coming off the bank and gave the win to Farrar.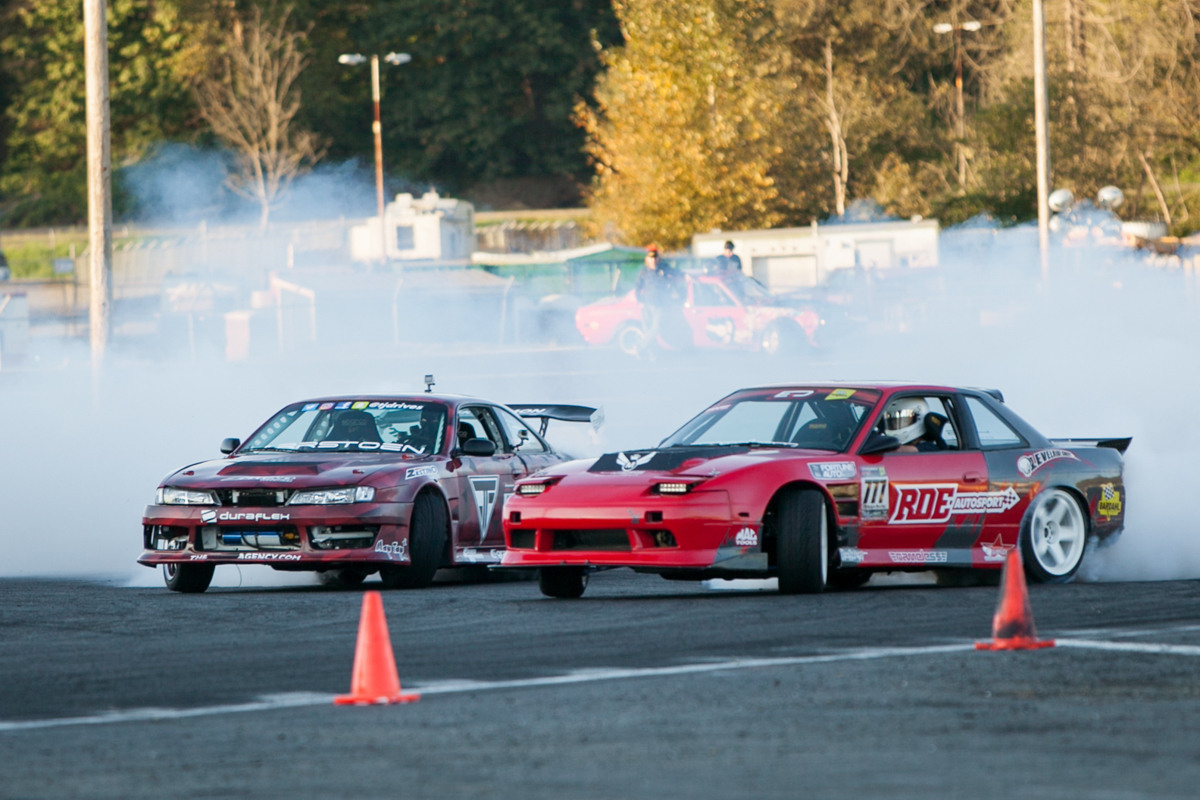 TJ Fry was getting up to speed quickly with the new layout quickly despite being his rookie ProAm season. He was set to battle Travis Reeder who has been on top of the points board all season. In a surprise upset, Reeder fell off line during his chase and actually had a few too many corrections, giving TJ Fry the advance.  Apparently Travis lost his power steering early in the day which may have contributed to his problems.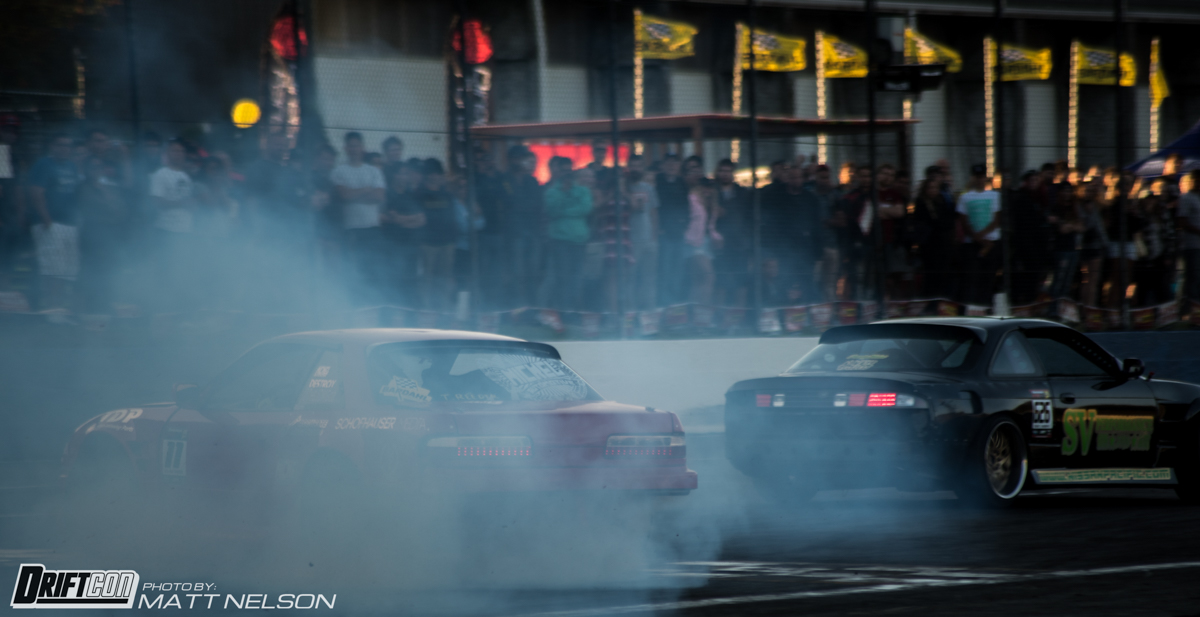 With both point leaders (Reeder and Vankirk) knocked out of the competition, a huge mix-up in the final 3 spots was possible. It just so happened that the third and fourth ranked in points were battling each other next – Brandon Schmidt and Nate Snyder. Both are highly capable drivers that have been dancing back and forth all season long. It was truly a well-fought battle, but in another surprise upset, Brandon Schmidt came to a slow stop after breaking an axle in the middle of his chase run. This meant that Snyder would move onto the Final Four.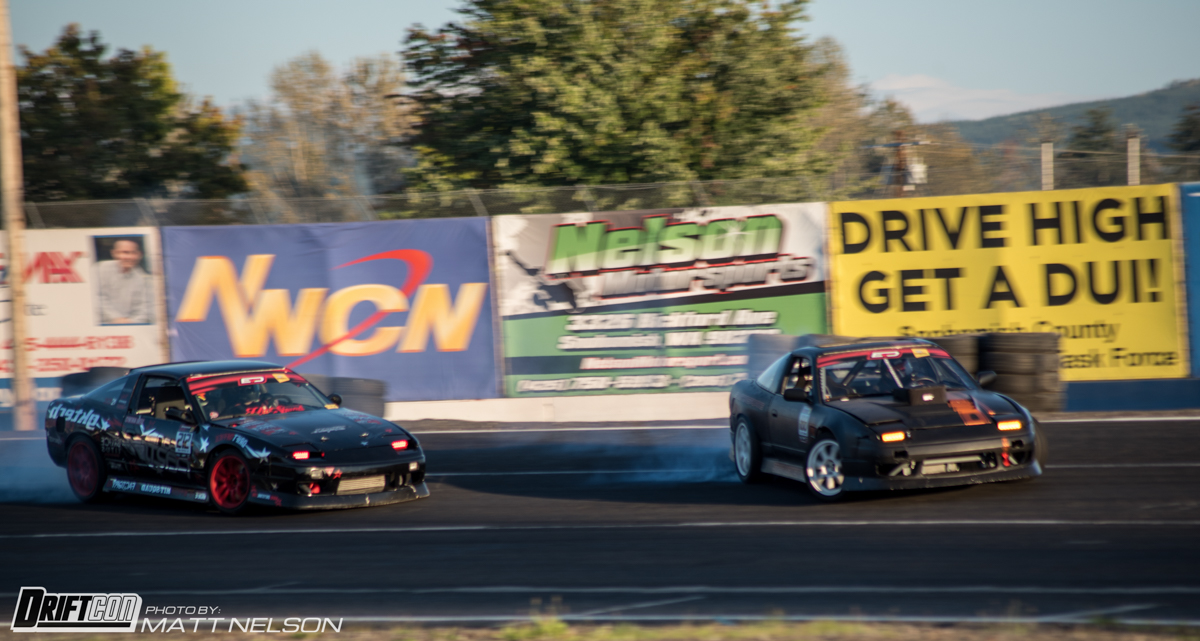 The final battle of the Top 8 started with a super strong showing by Tyler Grimsley laying down a solid lead run against Dio Ortiz. In his lead run however, Dio started to gain a little gap ahead of Tyler off bank. Somewhere along the line it looked like Tyler got a little overzealous, and spun chasing Dio, giving him the win.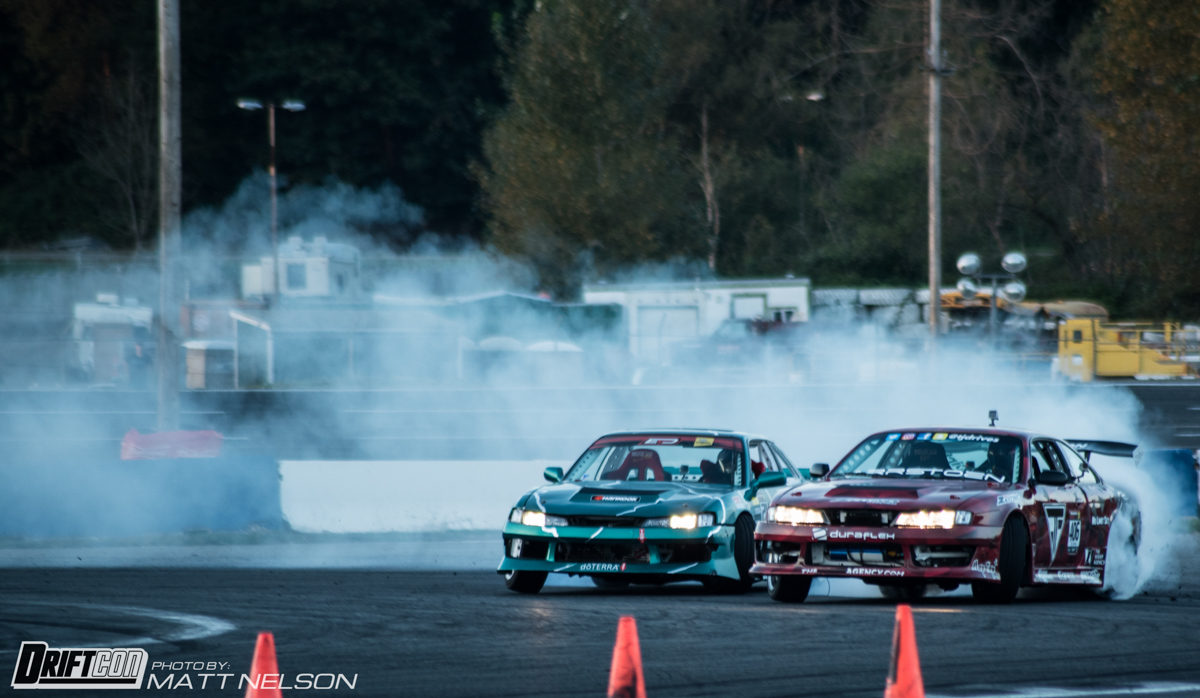 Heading into the final 4, you could tell the drivers were excited and falling into place and their driving was ON FIRE. The first big battle was between Zach Farrar and TJ Fry. The battle was very close with TJ lighting up his Zestino tires across the full length of the track with Farrar hanging on the whole time. The judges decided on a OMT and the drivers reset for competition. It was another solid run by both drivers, but the judges decided that Zach was a little low on the bank, and gave the win to TJ Fry advancing him to the finals.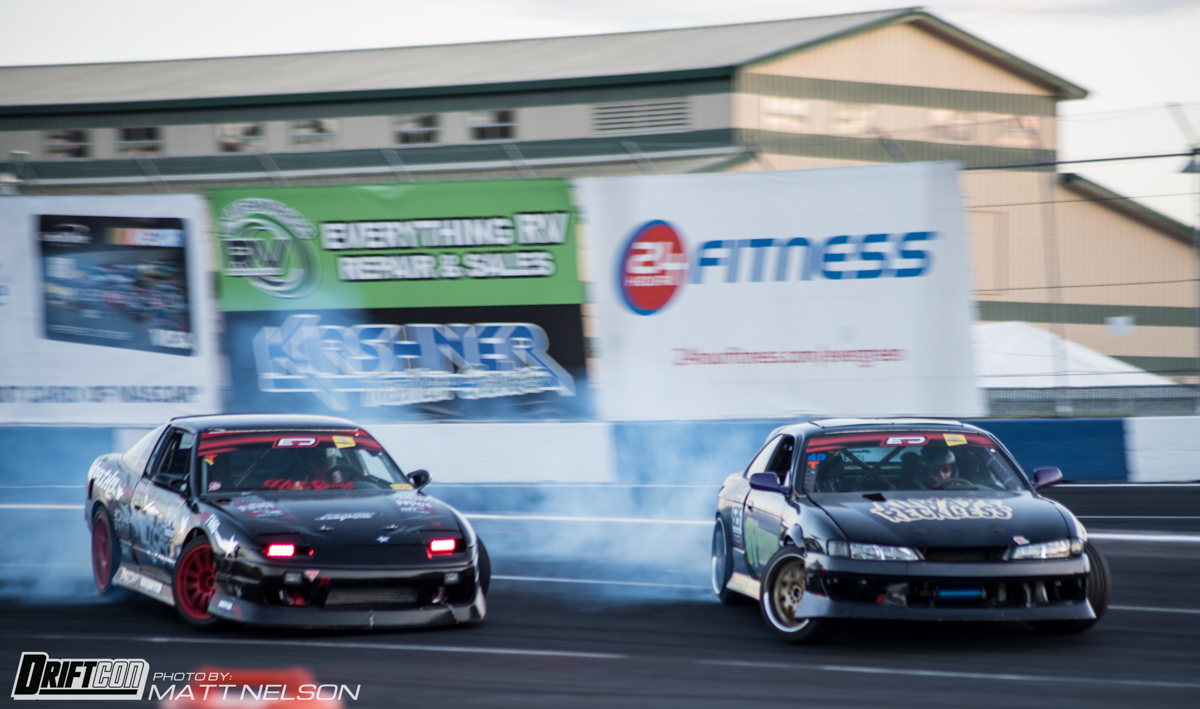 The next battle was Dio Ortiz leading against Nate Snyder. What was staged to be a great battle, ended shortly when Dio (I din'spin Ortiz) immediately spun out upon initiation. His chase run was simply too little too late and Nate Snyder would get the advance to the finals while Dio hung back and would battle Zach Farrar for third.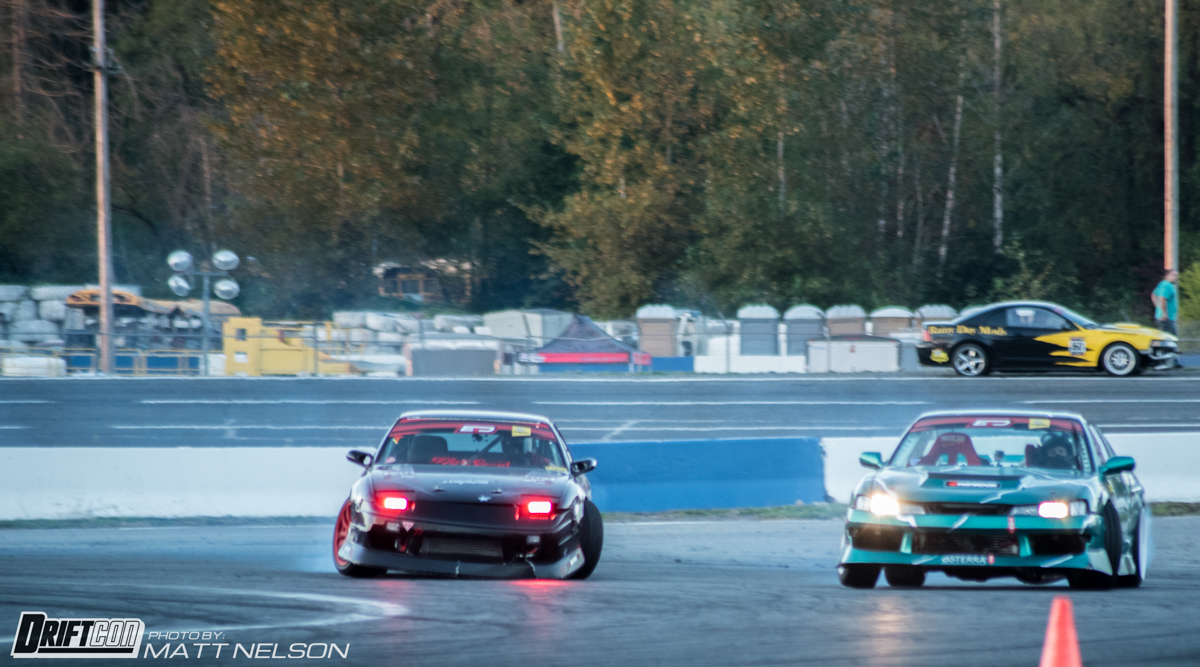 The last chance for cash and a podium spot this season was between Zach Farrar and Dio Ortiz. It was a classic coupe vs. hatch battle and JZ vs. VQ battle. Dio led the first run and established a bit of a gap in front of Zach. Both cars have had their share of issues this season but both seemed strong during this final fight. The next run we saw Dio doing just what he needed to – applying the pressure on the inside of Zach's door. A much stronger chase gave Dio the win and the #3 podium spot.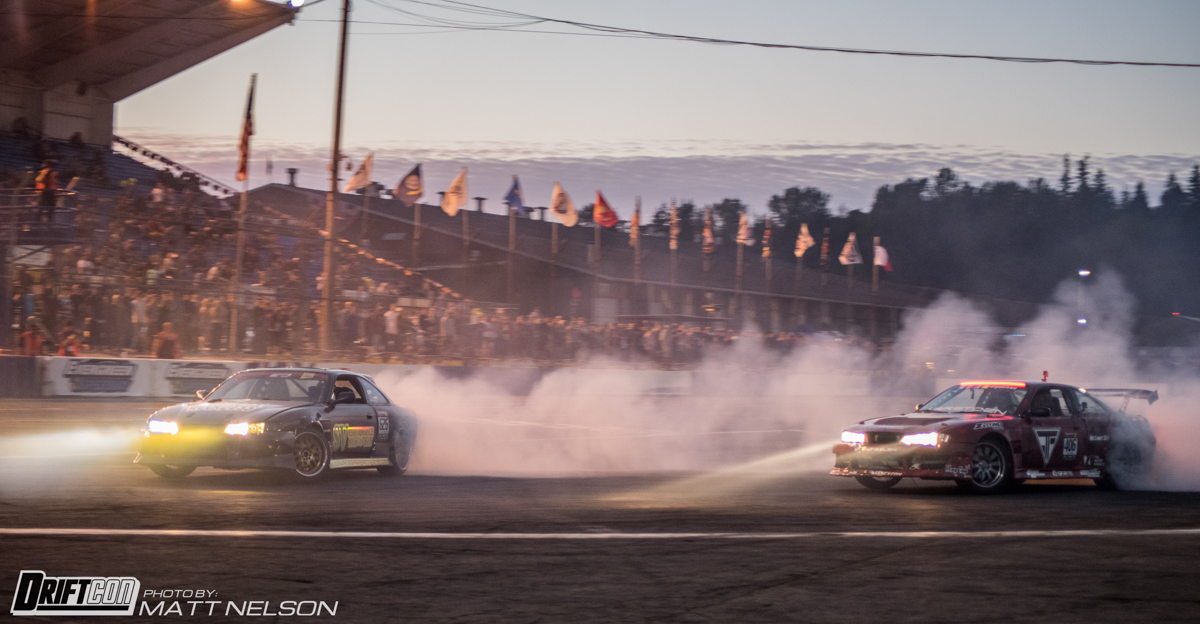 The final battle of the 2016 Evergreen Drift ProAm Championship season pitted an Evergreen veteran against a rookie.  Nate Snyder vs TJ Fry – twin V8 S14's. Both have proven themselves all season long as committed drivers. Nate started by leading the first run, and laid down a solid line out front but TJ was right in his shadow the whole run. It's obvious that TJ has really gotten comfortable in the chase position. Snyder's chase was good, but it was no match for the proximity held by TJ Fry. TJ would take his FIRST ProAm podium at DriftCon Afterdark!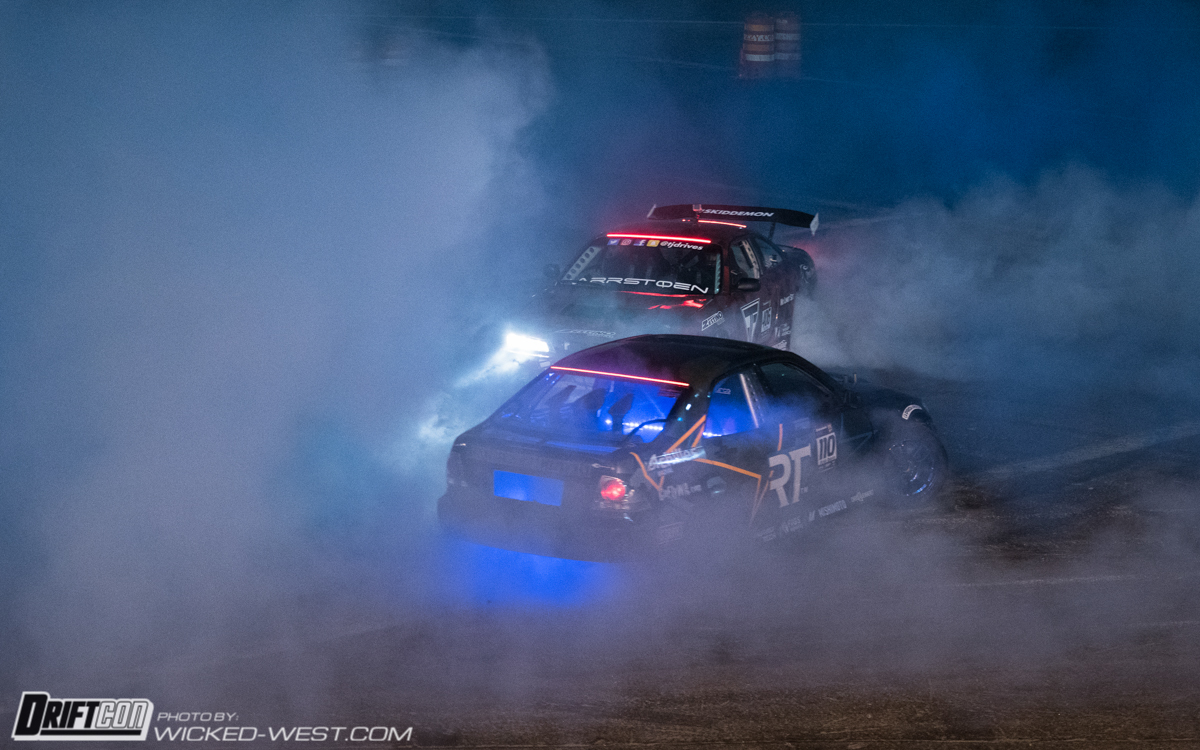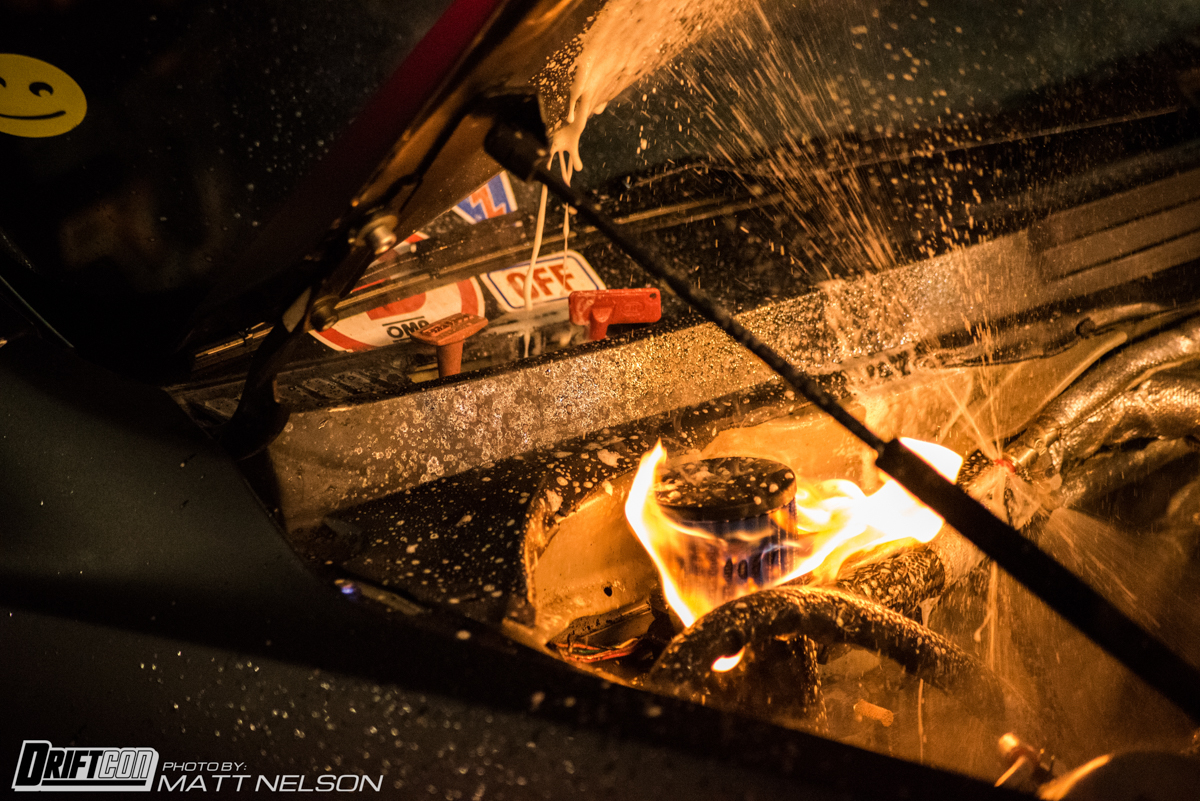 Hoonigan was back at DriftCon Afterdark – as a support and sponsor for the Hoon-Off competition. This year we introduced a new Team Hoon-Off which allowed a pair of cars rather than just one, to use the infield as they see fit and to "hoon" to the best of their abilities. A total of 3 teams would come out and put on a show, but the highlight of the Team Hoon-Off was hands down the drift car duo of TJ Fry and Brad Davis. The team delighted the crowd with what almost appeared to be a choreographed performance; complete with blue tire smoke, disco strobes, neon lights and more! The roaring V8 in one car and a screaming boosted JZ in the other meant everyone got something they liked.  And of course to end things in a bang, a small (easily-contained) engine fire in Brad's IS300 saw the crowd erupt in excitement. They took first place in the first ever Team Hoon-Off.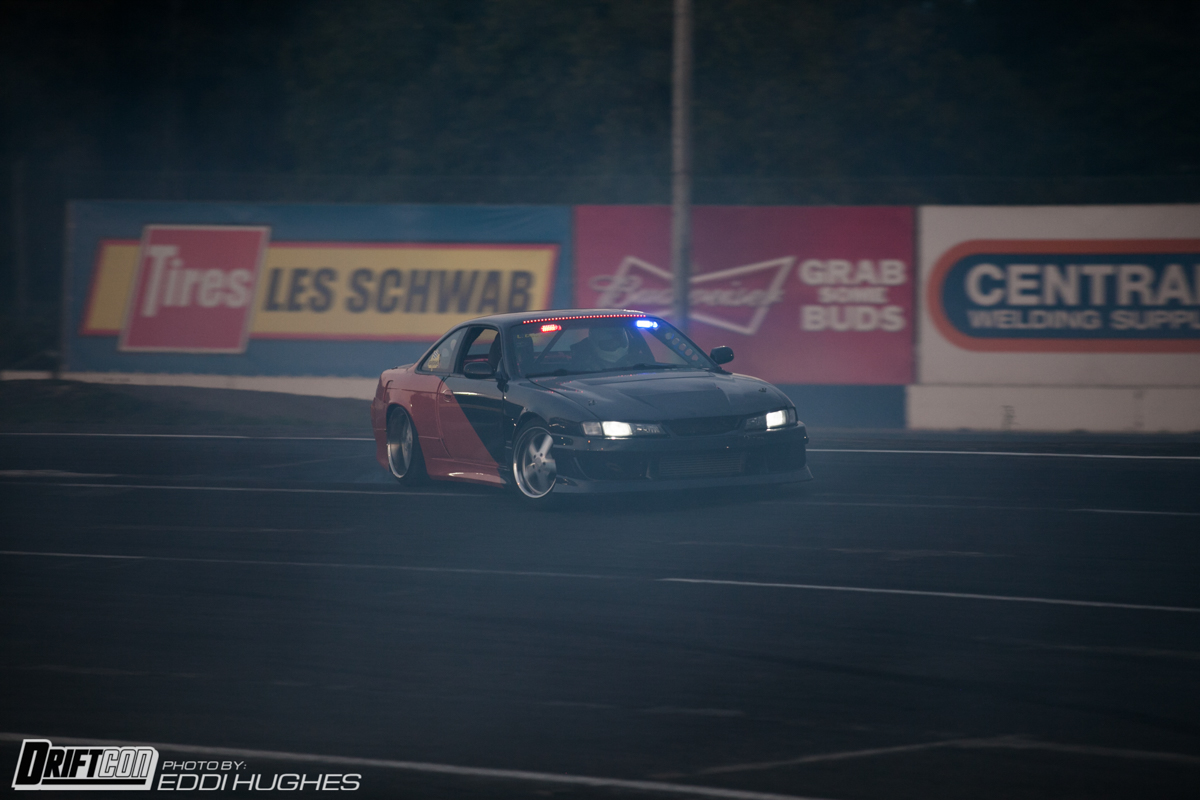 The night following the Evergreen Drift ProAm Championship was also host to a short Open Drift period of Drift Games. Drift Limbo was setup on the infield providing drivers a fun new challenge during the night. As multiple drivers would successfully pass through the Limbo Gate, track workers would decrease the gap, therefore increasing the difficulty for the drivers. In the end, one driver really stood out as being able to cleanly "thread the needle" and navigate through the gate without knocking over a single barrel. The most precise driver and winner of the Drift Limbo was Lucas Duraudo in his JZ powered S14.
Due to some mechanical failures during ProAm competition the Drift Games were cut short to only the Drift Limbo. After Drift Limbo ended we moved into Tandem Mayhem/Open Drift so that the drifters could give ridealongs and have some fun at the last big drift event of the year. We'll be making some changes to address the Drift Games to ensure some of the most exciting games are done earlier in the night.
Thank you to everyone who attended any DriftCon events this year! We look forward to continuing and improving the events even further in 2017.