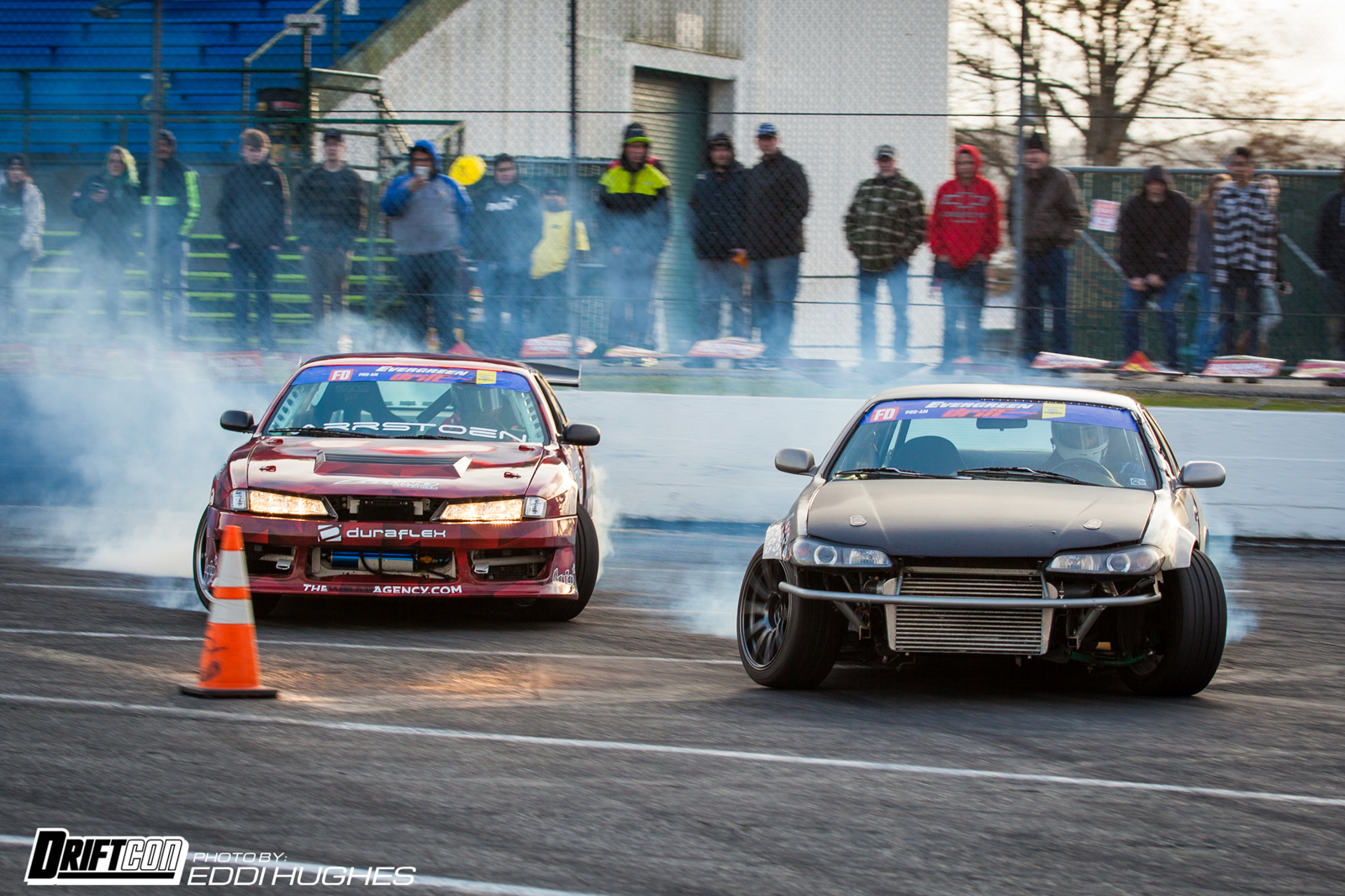 The 2017 drift season is now officially underway! Presented by Bardahl; the Evergreen Drift ProAm championship series returns for its 8th year to crown the next generation of Formula Drift competitors. We continue to see a mix of both new and veteran drivers making vibrant moves on track and can't wait for the rest of the season to unfold.
Photos by Eddi Hughes. Story by Mat Risher.
Round 1 is always an interesting turnout. There is always a handful of drivers who have spent all winter and offseason building and prepping their cars. For them round 1 is the unveiling of their hard work. Coming from the land of the North; Keith Carter made his EVD  ProAm debut driving a very strong LS-powered S13. This car was previously piloted by Brody Goble (FD Pro2) who was also giving a helping hand.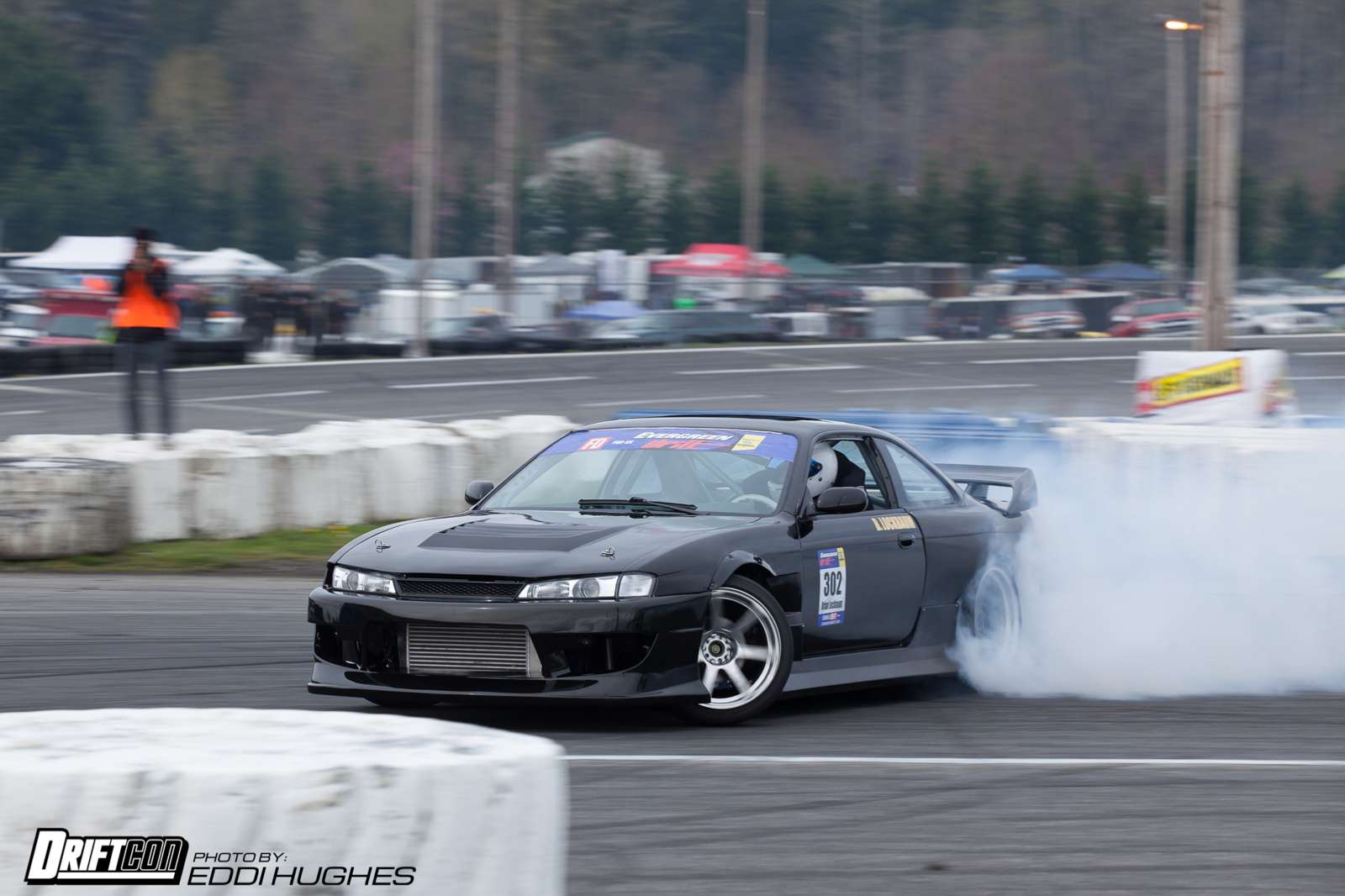 Local ProAm rookies include Loren Knisley, Chase Schmidt, and Brian Lockbaum. Loren committed himself to the 3/8ths rounds of competition this year at the very least. He's made a lot of moves during the offseason in his SR-powered convertible. Chase, who works during the week at DirtFish Rally School, is a fun new driver also made waves in his "Poop-Coupe" V8 BMW E30. Brian also debuted his super dope Superdoofed S14.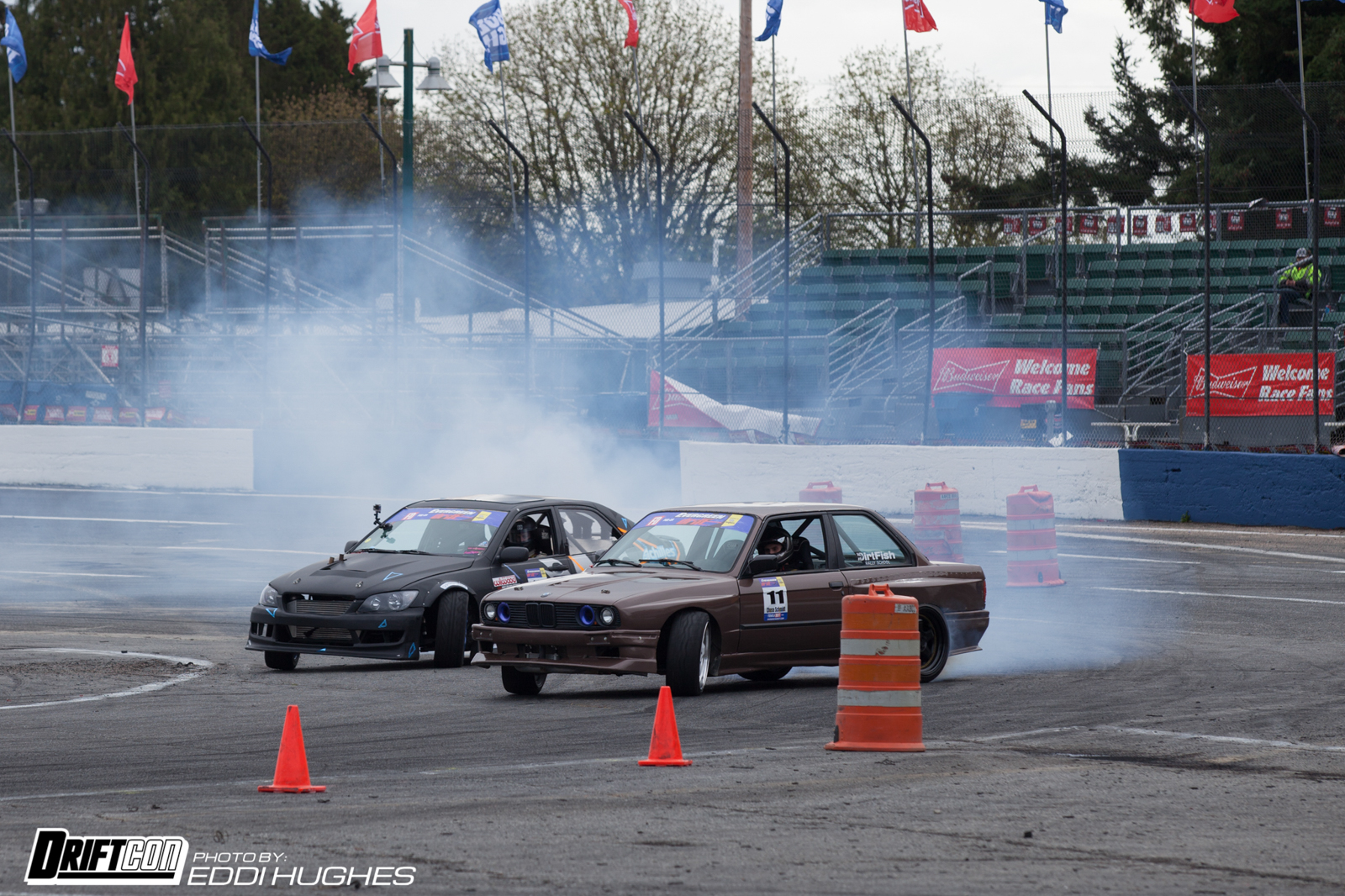 Returning for his second season of ProAm is Arie Abrams in his familiar PSI purple SR powered Sil-80. He's recently switched to a CD009 (350Z) transmission with the aid of a SerialNine shifter setup. Joining Arie in the Oregon invasion were veteran PARC drivers Dalton Gernhart and Ryan Lackner.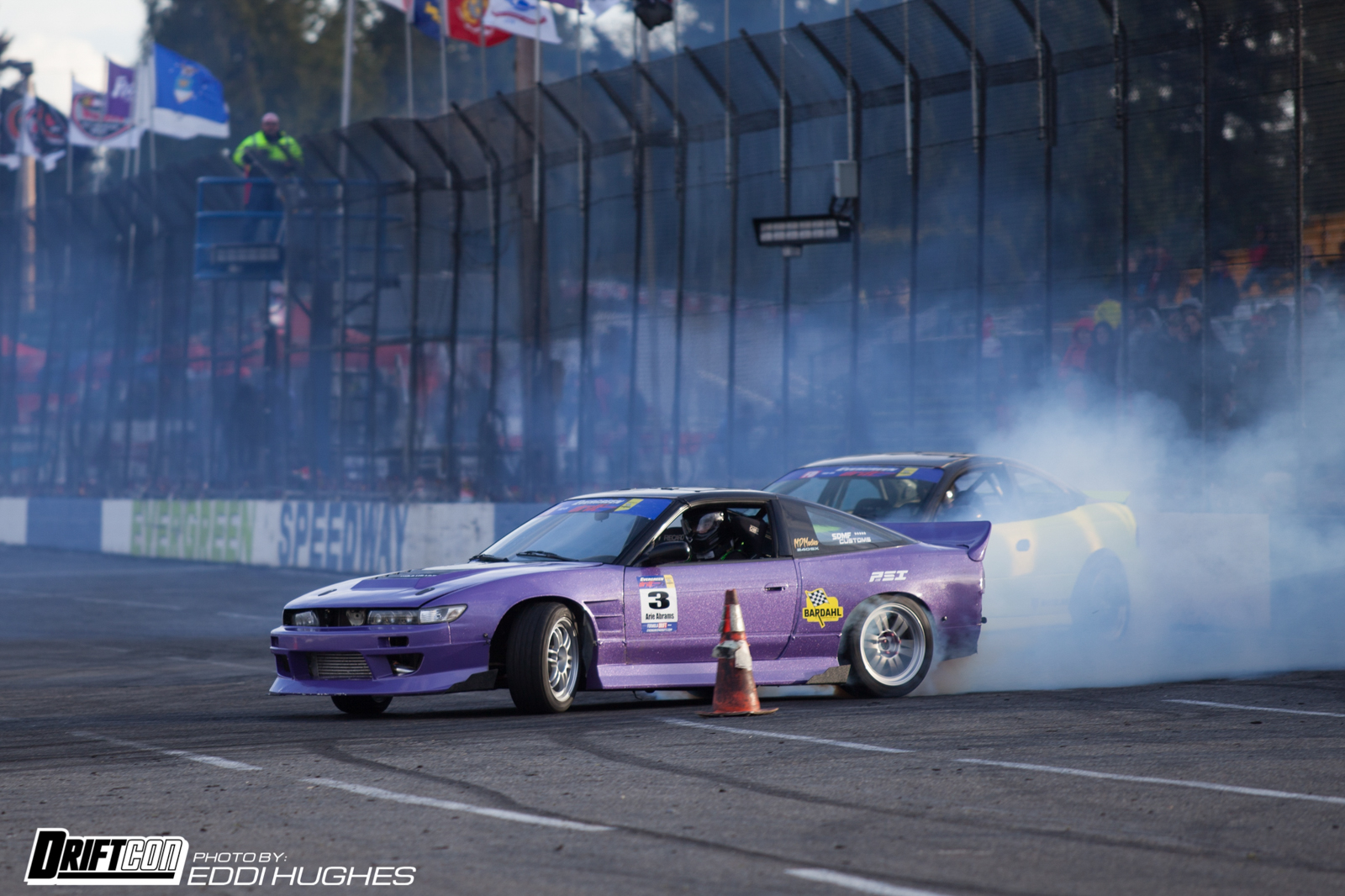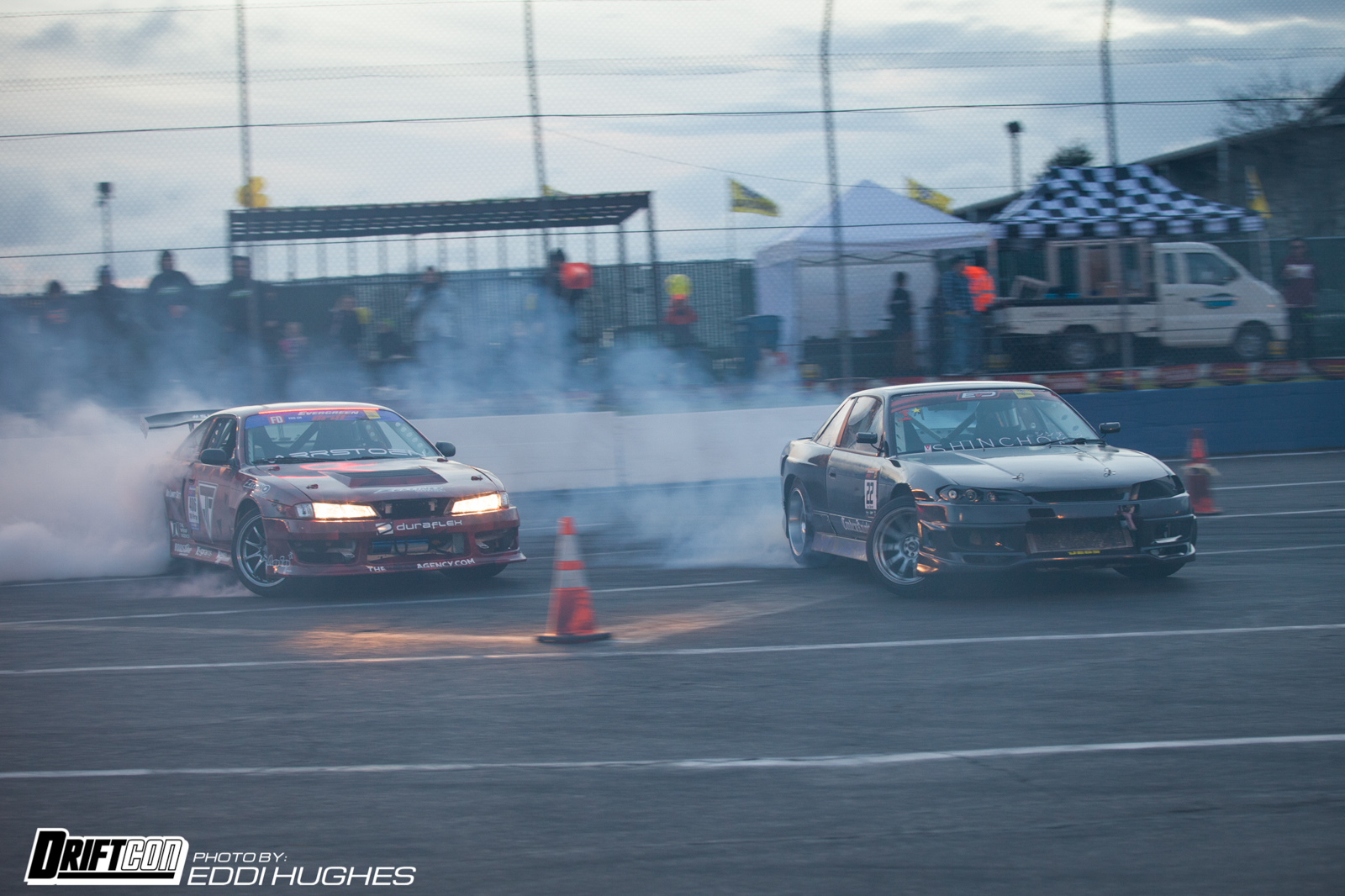 Eddy Gonzalez – who pilots a now blazingly bright GTO, was nice enough to loan his secondary car, a Fox body Mustang, to Matt Larkin. It was fun to watch Matt adapt to an entirely new chassis, and he did quite well and was able to earn points. Shawn Kim also showed up in his secondary to compete. Ironically; Shawn has his updated FR-S planned to debut alongside Matt Larkin's LS350Z hopefully at ProAm Round / DriftCon. The teaser pics look stunning!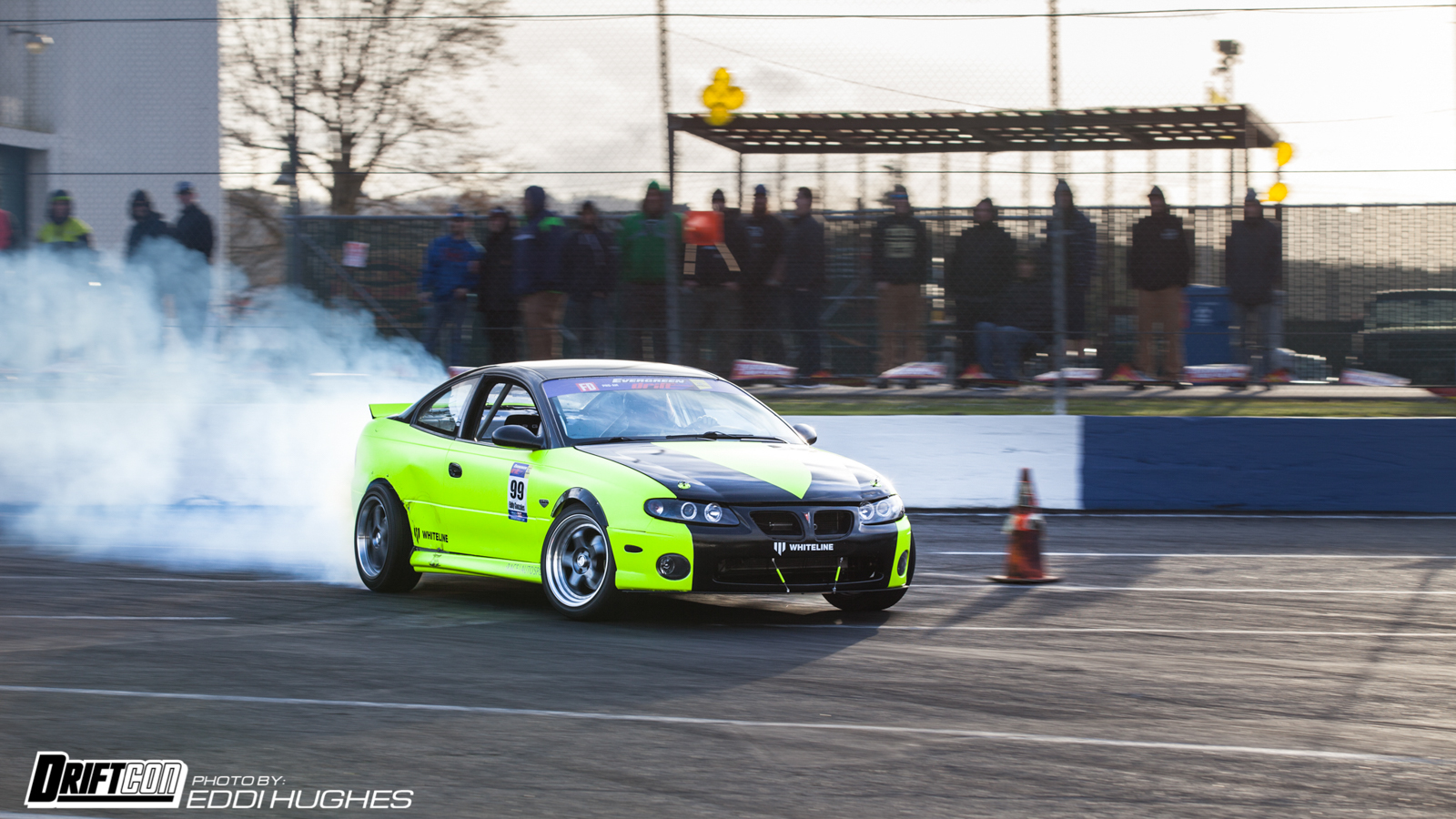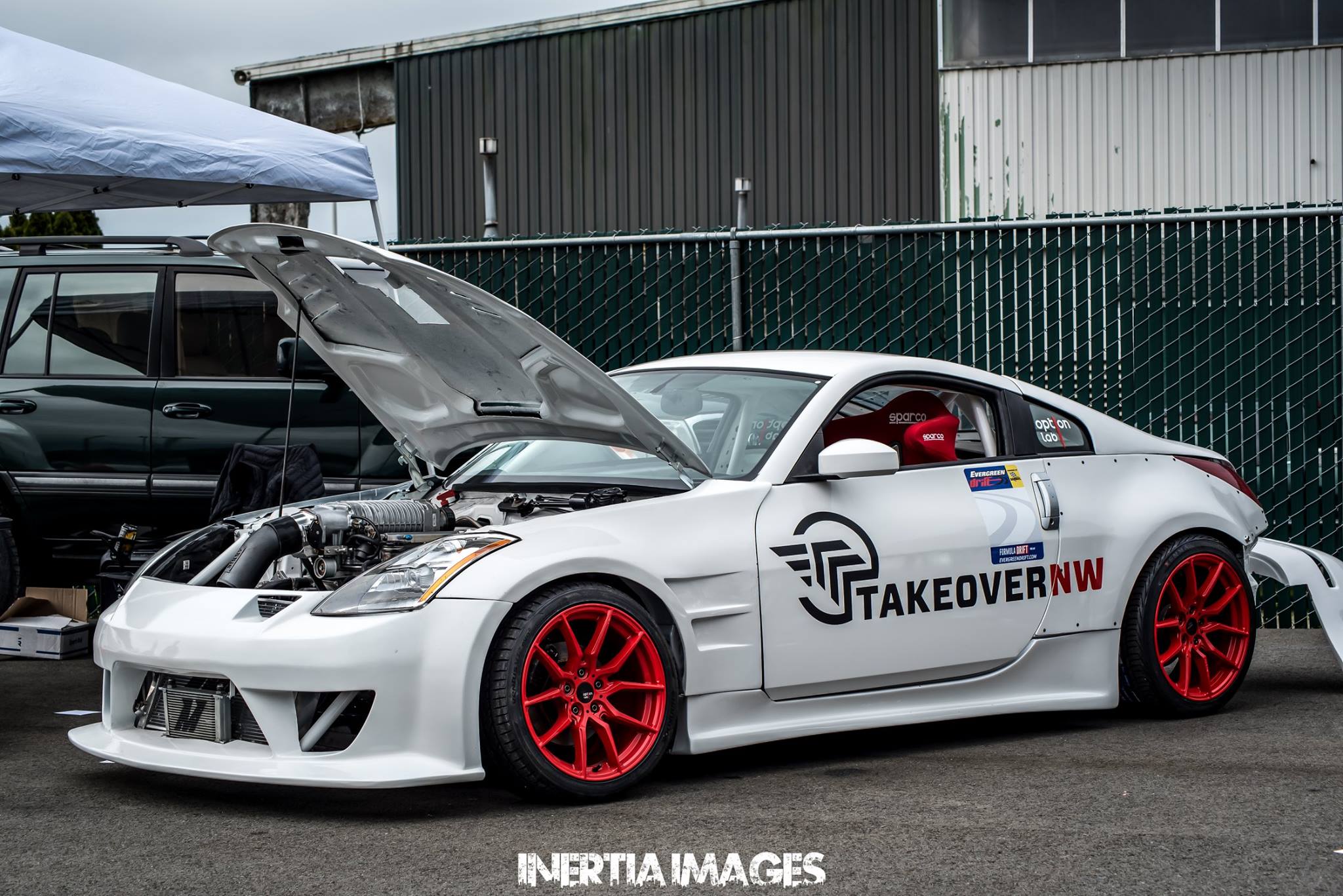 Zach Farrar returned with his ever familiar Shinchoku S13.4. He's recently learned how to crabwalk during the offseason with the help of Wisefab.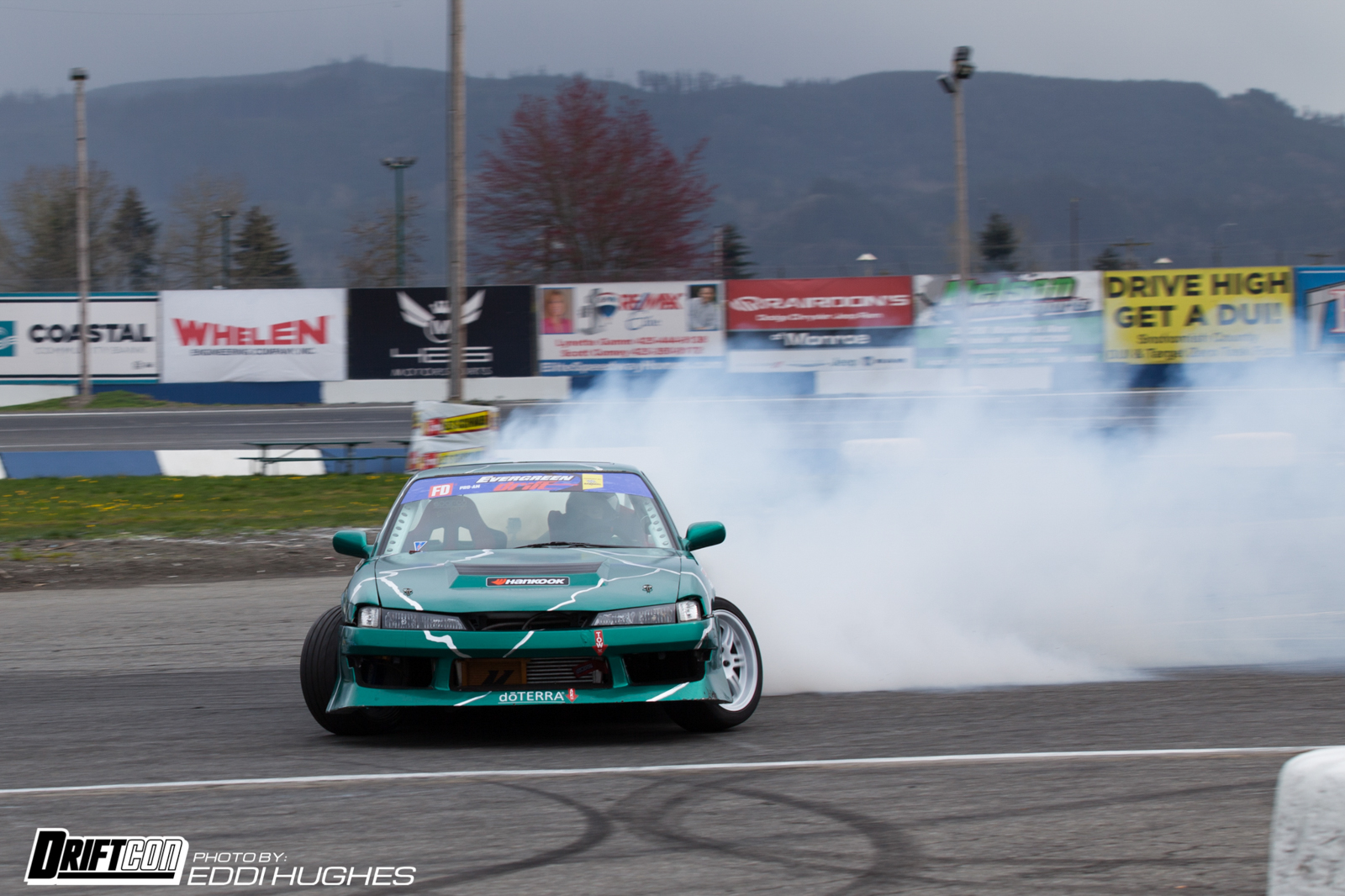 Nate Snyder can't seem to make up his mind on what color he likes his car – but the luscious green with a splash of pineapple on top looks grand!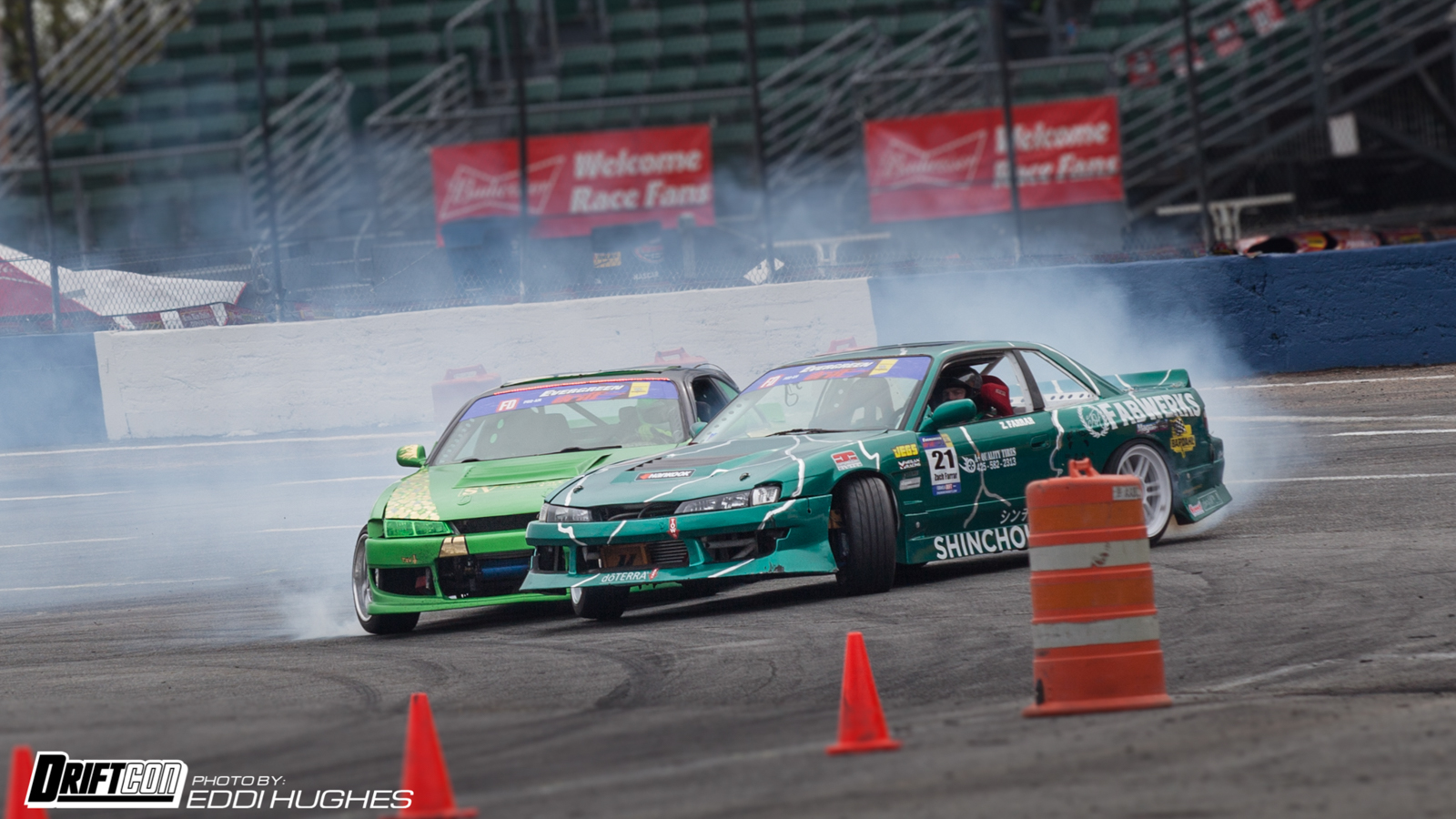 Aaron Mansfield was also piloting his street car, an RB25-powered S14.5. He too hopes to debut his comp car at round 2.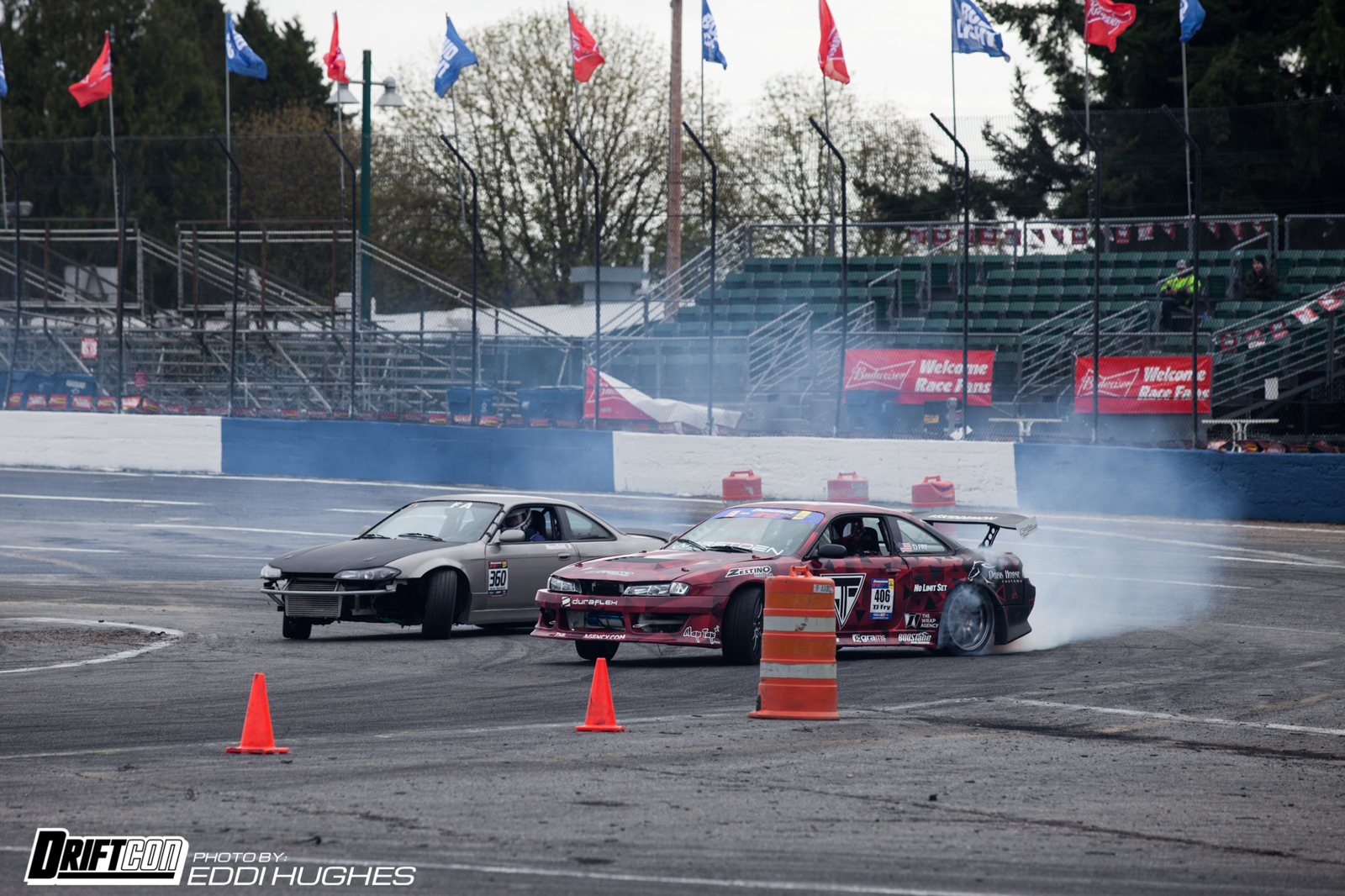 Good to see Joseph Lin back out as well, a unique setup with his JZ powered S13.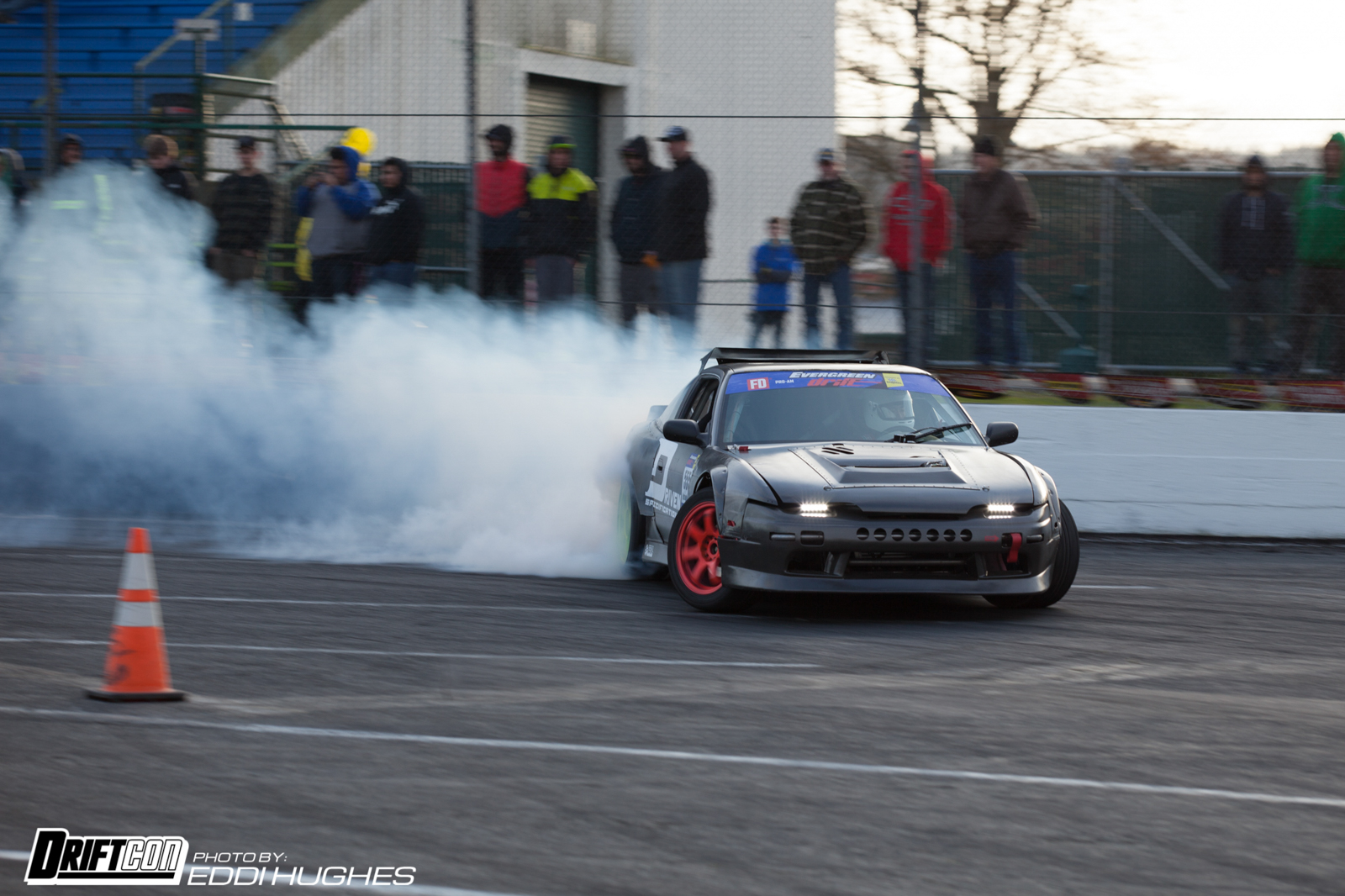 As competition worked its way down to the top few drivers, it was apparent that this season will have a lot of good competition. Returning to compete all the way from Montana was TJ Fry. He proved himself last season as force to be reckoned with. He didn't skip a beat with consistently smooth driving he was able to take the third place podium spot.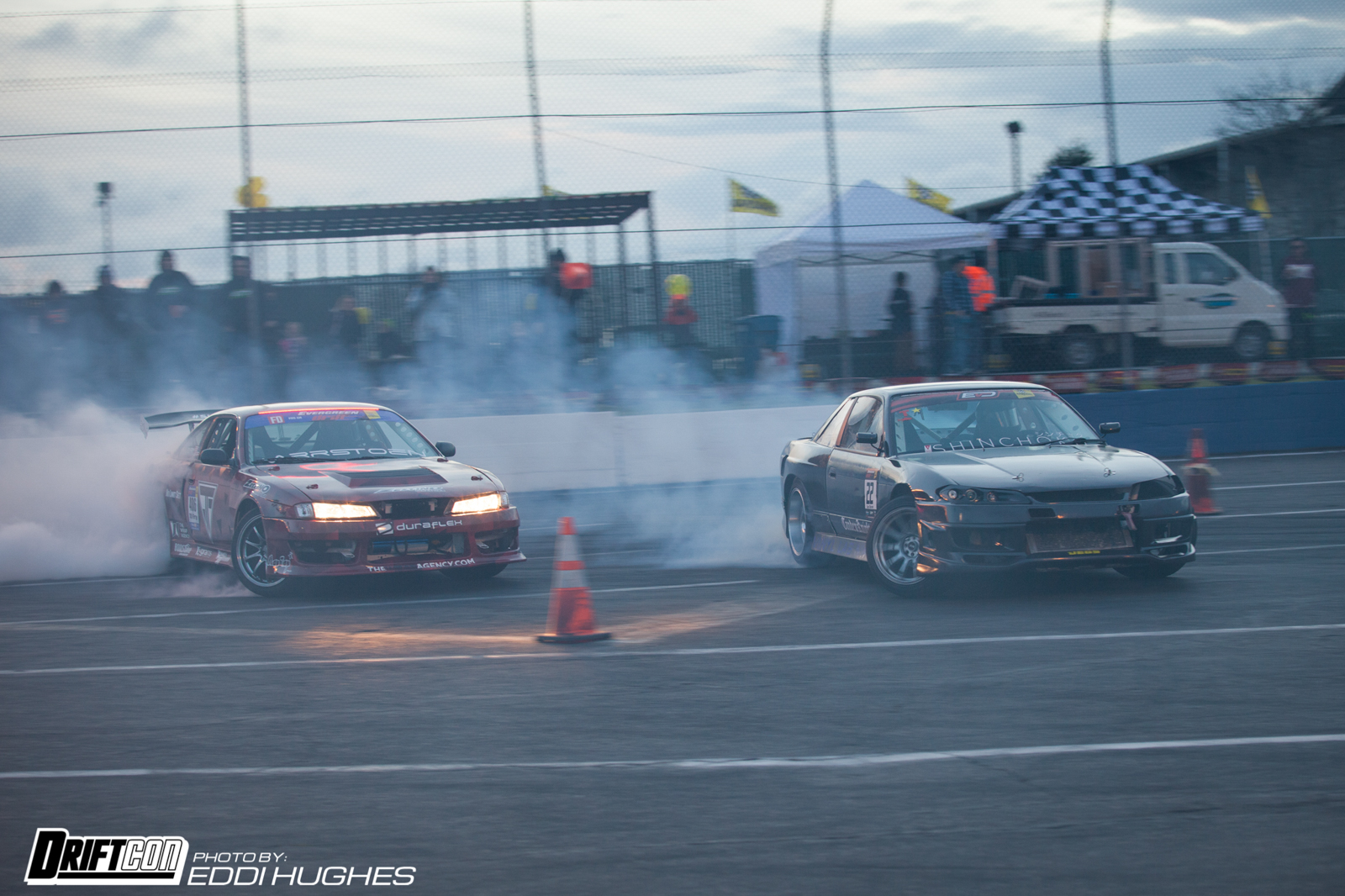 The final battle came down to a pair of drivers that I feel have been deserving of these top podium finishes for a very long time. Both drivers with updated looks for season, and off to a great start with their solid performance.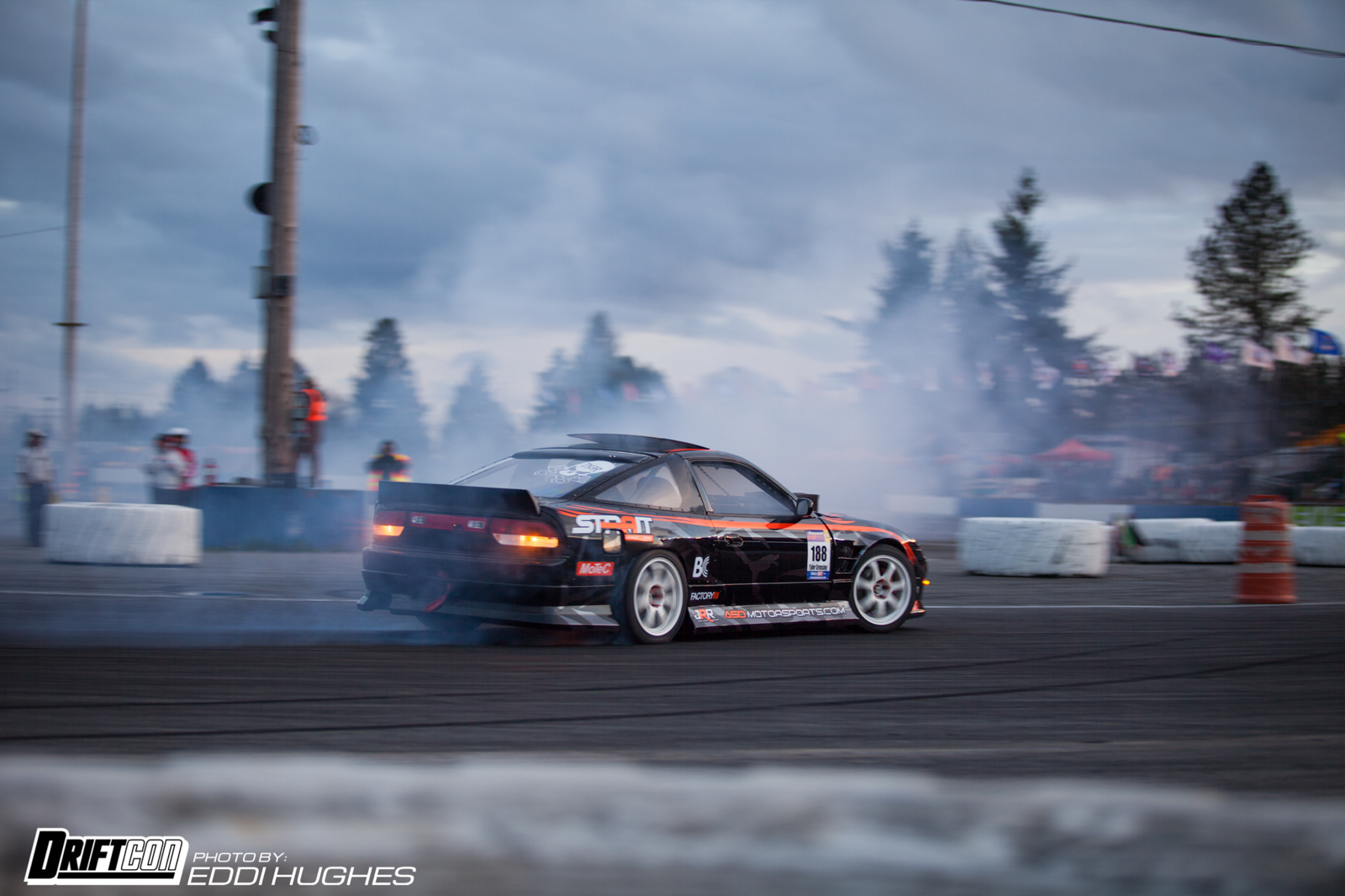 Tyler Grimsley took second place driving the freshly doofed and F83-styled ASD motorsports S13.
Victory at the end of the night would fall upon Patrick Heald. Another committed competitor that surprised everyone with sharp moves in his Nitrous Express / Cosmis KA-T hatch. This is Pat's second year in ProAm competition and set the bar high on the infield track. With a championship now in his sights, he'll have to continue to fight hard to stay up on top of the points board.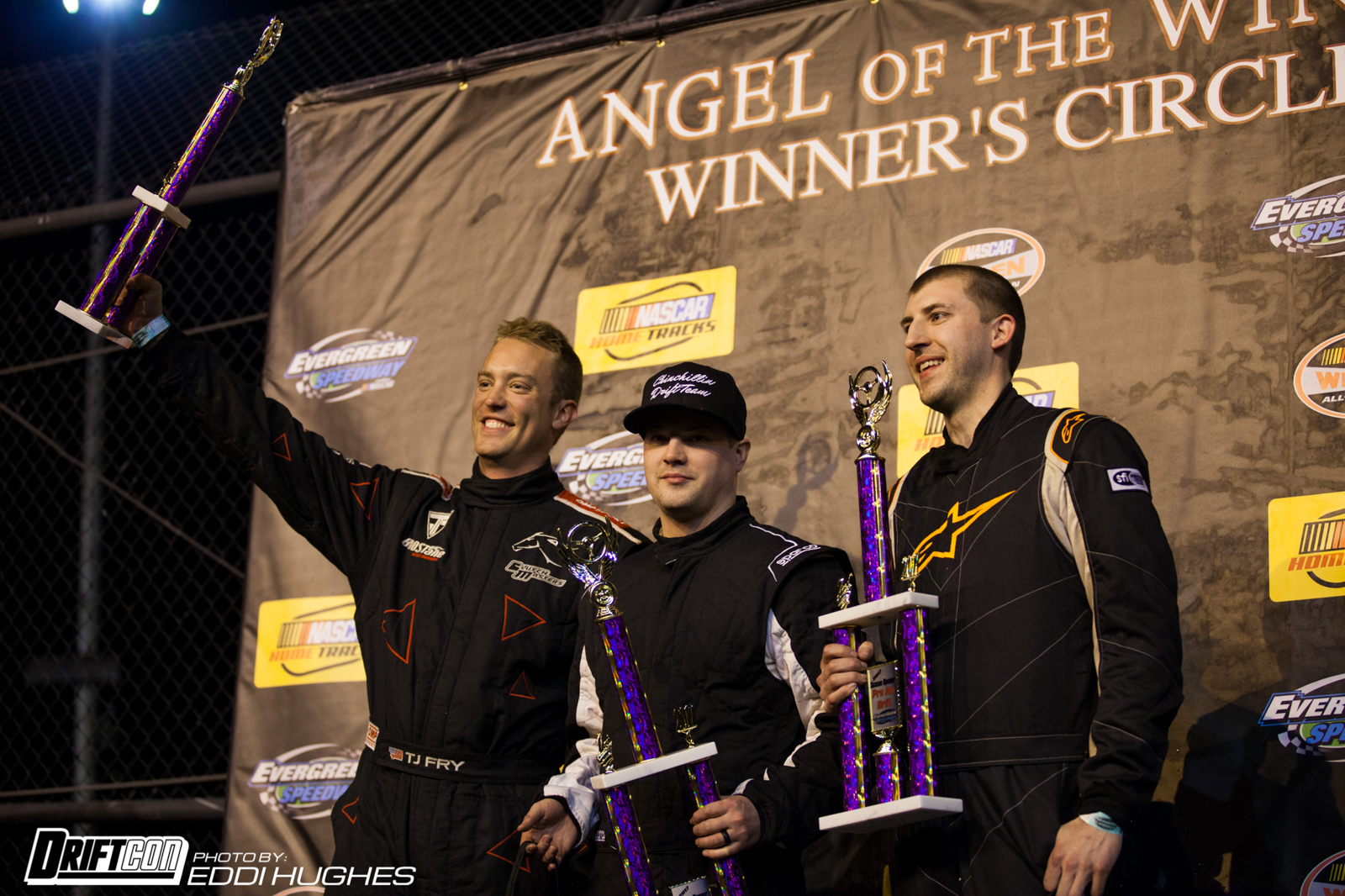 Up next is round 2 during DRIFTCON. Drivers will battle at speeds nearing 100mph as the initiate on the infamous Evergreen Speedway 5/8ths Bank. Skill, will and horsepower will be put to the test.