DriftCon Afterdark will be held on September 30, 2017 from 3pm to 10pm at Evergreen Speedway in Monroe, WA. This event is combined with round 5 of the Evergreen Drift ProAm series.
TANDEM MAYHEM / DRIFT GAMES SOLD OUT – NO DAY-OF REGISTRATIONS
The DC Drift Games and Tandem Mayhem at DriftCon Afterdark will run throughout the day and night of the event. This part of the event is supposed to be entirely for fun. We want drivers to experience styles of drifting that they are not able to do in standard competition. Since it will be held after the ProAm competition in theory drivers should have nothing to lose. Drivers are encouraged to give ride-alongs (only passengers who have signed the waiver) and have a great time at the last large drifting event of the year!
SCHEDULE
Saturday – September 30, 2017:
9:00 – Back Gate Open / Tech Inspection
11:15 – MANDATORY ProAm Driver's Meeting
11:30 – MANDATORY Team Showoff / Drift Games Meeting
11:45 – MANDATORY MEDIA Meeting
12:00 to 1:30 – ProAm Practice
1:30 to 2:30 – Team Showoff Practice / Solo Drifting (Optional)
2:30 to 3:00 –  Drift Limbo and Big Entry Practice
3:00 to 4:30 – ProAm Qualifying
4:30 to 4:45 – ProAm Scoring Break
4:45 to 5:00 – ProAm Qualifying Meeting
4:30 to 5:00 – Team Showoff Practice / Solo Drifting (Optional)
5:00 to 7:00 – ProAm Top 16 Competition to Finish / Solo Drifting (Downtime)
7:00 to 7:15 – Hoon-Off Burnout Competition
7:15 to 8:15 – Team Showoff Competition
8:15 to 8:45 – Parking Challenge
8:45 to 9:15 – Big Entry Contest
9:15 to 9:45 – Drift Limbo
9:45 to 10:00 – Drifting & Car Show Awards Ceremony
Tandem Mayhem is essentially an informal Open Drift for experienced drivers. This is NOT a traditional Open Drift for new drivers. There will be time to run the cageless layout in front of the grandstands as well as the traditional 3/8 bank. Only tandem legal cars will be permitted on the 3/8 bank and everyone else will be required to stage in the cageless area. Ride-alongs are permitted as long as passengers have signed the waiver and have a helmet.
Throughout the day there will be "dead time" where Tandem Mayhem and Drift Game drivers will be permitted on track. Please see final schedule
Online cost is $60 or $30 for ProAm. Day of registration increases to $75 at the back gate. It is highly recommended to register online as spots are limited.
Tech inspection requirements are similar to any Open Drift day. Full instructions and final schedule will be shared within a week of the event.
TEAM TANDEM SHOWOFF
We've heard your requests, and we've added a short Team Tandem challenge; an hour long (7:15 to 8:15) judged run group on a cageless layout. Teams of 3 -5 will take turns making as many runs as possible. This is a non-elimination challenge and all runs will be taken into consideration; the Judges will select a single team at the end of the day to be awarded.
This is a "Team Exhibition" style competition – meaning there are no brackets or eliminations. Teams will stage up for a cageless layout and will proceed to run AS TEAMS ONLY (no solo driving) in an open drift fashion. Think of it as a team only run group.
Note: No cash prize will be awarded in this competition. Simply register for $60 below and input your team name after you select Team Showoff.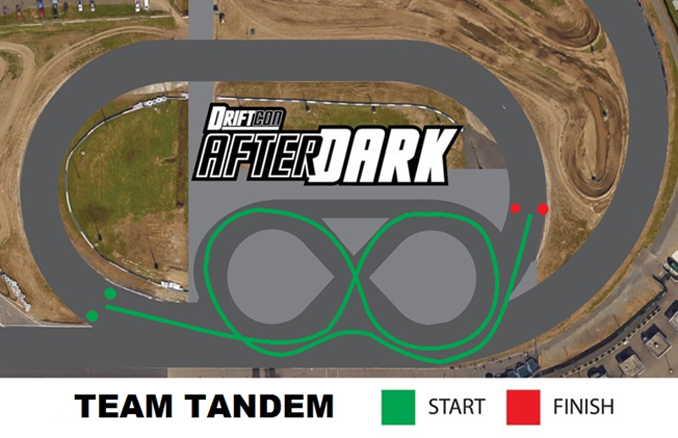 BIG ENTRY CONTEST
A new game at DriftCon Afterdark. For drivers who are bold and brazen with speed and style, this competition is for you. Drivers will stage on the 3/8ths bank and make an attack down the front stretch past the start/finish line and the grandstands, passing the media box and making a big entry (fast, high angle, backwards) into the first turn around the light pole
Once cleared and sent, a driver will make his approach down the main straight – speed is up to the driver.
Driver has open choice of how they wish to initiate, the faster and more aggressive the better.
Drivers will get as many runs as we can fit in the allotted time – the driver with the best entry wins the contest.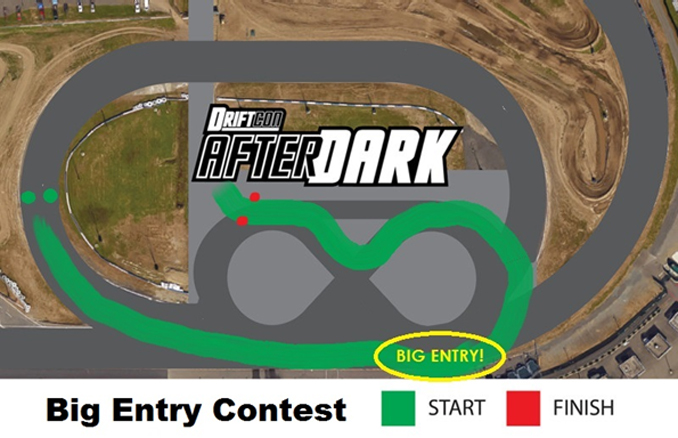 DRIFT LIMBO
Drivers will start on the Classic 3/8ths layout which will have an additional set of identifying cones / barrels known as the LIMBO GATE. Drivers must navigate the track and position their cars safely through the gate without knocking over any pylons.
As drivers continue their laps, the LIMBO GATE will get smaller in size until it's just barely wide enough for cars to drift through. This is similar to the limbo stick lowering in a standard limbo competition.
Driver must maintain drift the entire length of the course – no drift = eliminated.
Drivers ON THROTTLE when passing through the gate – lifting/coasting through the gate = eliminated.
Any contact with the Gate Markers counts as a hit = eliminated.
Last man standing wins.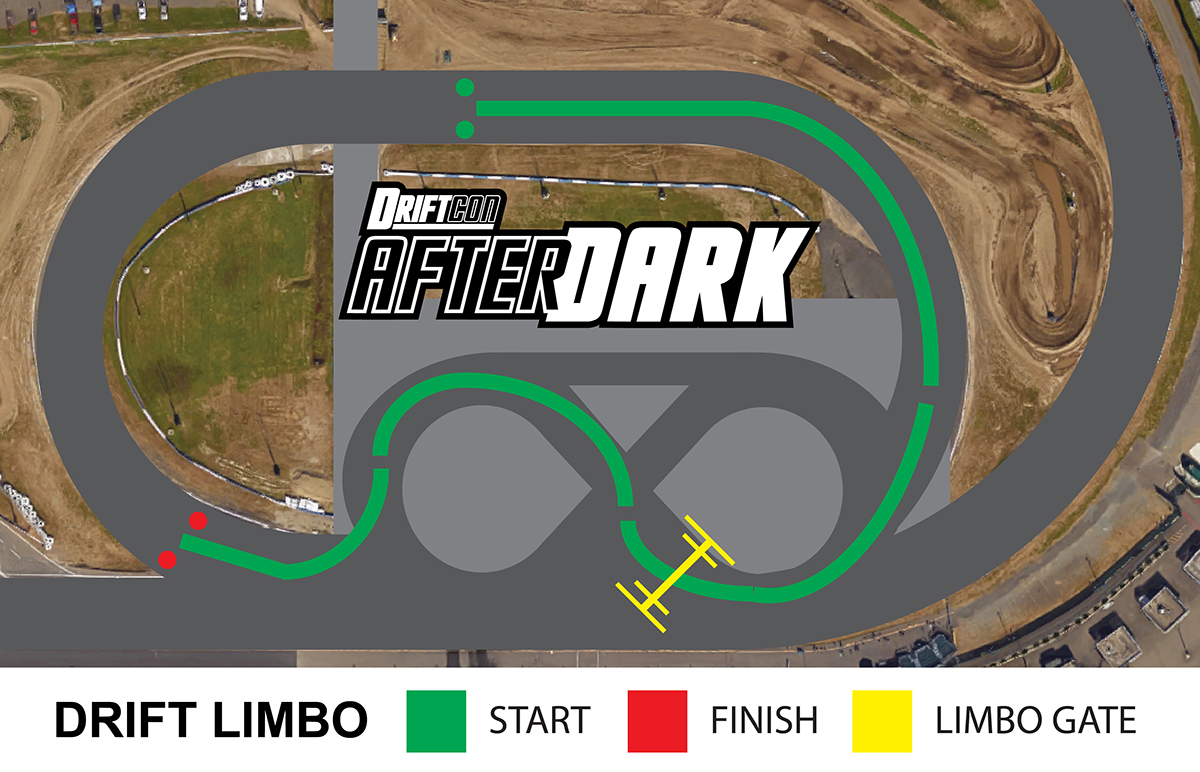 PARKING CHALLENGE
A set of cones arranged in the center of the infield will outline a targeted parking spot. Drivers will (one at a time) proceed through a series of drifts and are challenged with sliding their cars into the designated parking spot.
Drivers that successfully make it into the spot without knocking over any cones will get back in line for another attempt until all other drivers have been eliminated. After each cycle of successful drivers, we will alter the run up and tighten up the parking space slightly to increase difficulty. Last man standing / best overall parker wins!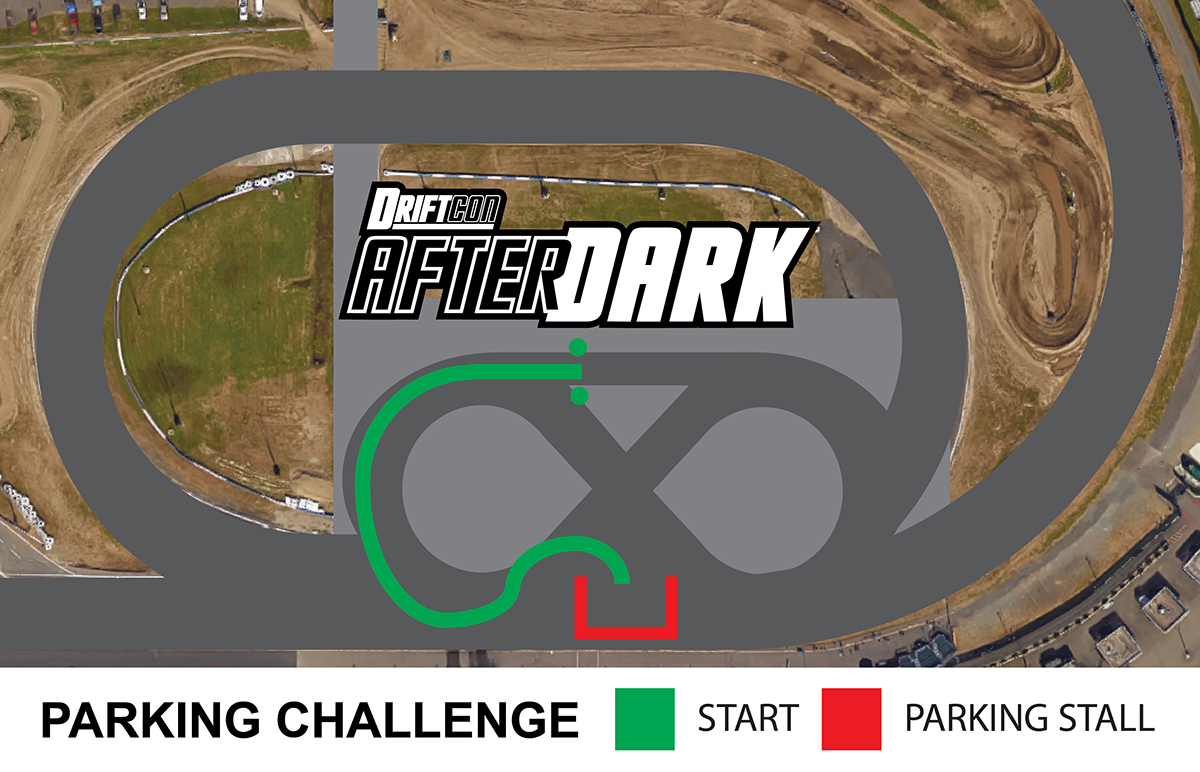 TANDEM MAYHEM / DRIFT GAMES SOLD OUT – NO DAY-OF REGISTRATIONS