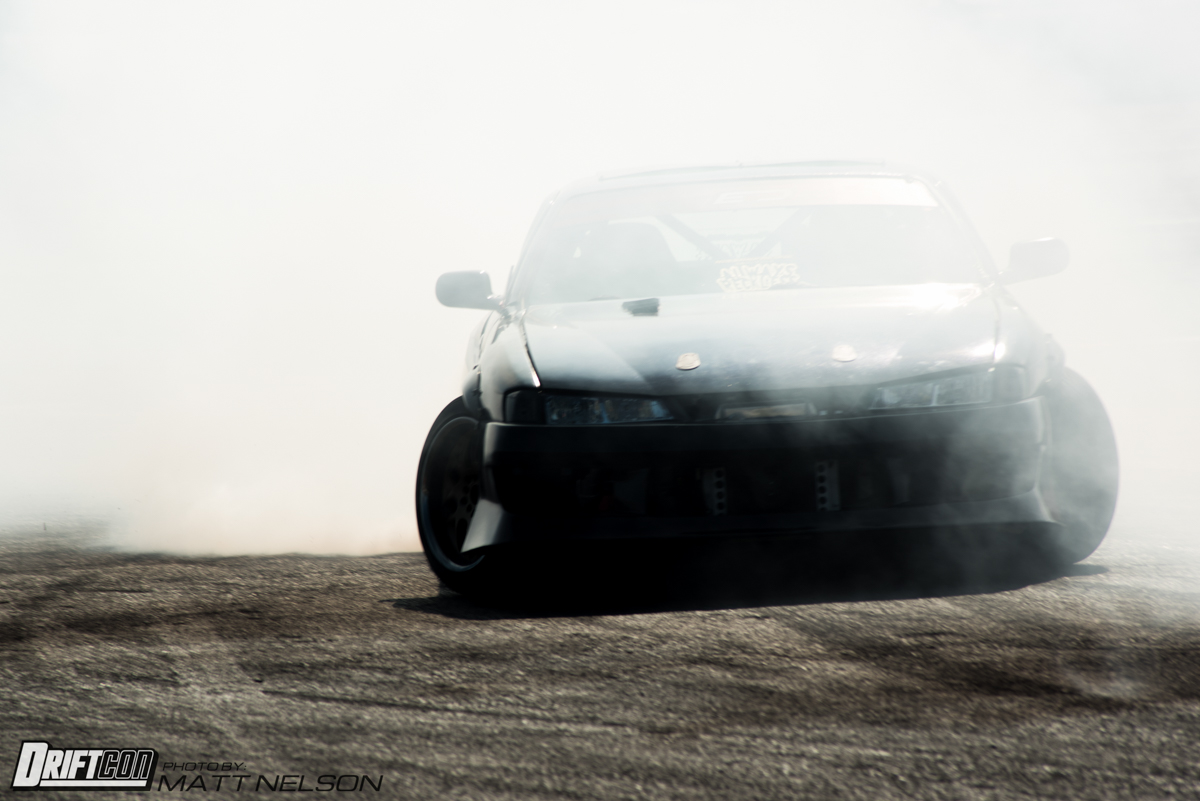 In the early morning hours of a sunny Saturday morning, drivers and crew started to arrive at Evergreen Speedway for DriftCon 2016. In the months leading up to the event, it was shaping up to be quite the show. With ProAm drivers competing for points, a large array of show cars to see, a vendor area to explore, a Hoon-Off, and a Team Tandem Competition – it was a packed event. This is a third year event that continues to grow each time it's held. In this article we will recap highlights from the track as experienced by myself – AfroDrift.
Photos by Matt Nelson, Eddi Hughes, Kelley McKenzie, TK Akiyama, Adam Ruiz and Wicked-West. Story by Mat Risher.
DriftCon has been working closely with Evergreen Drift during the offseason and this year to keep fans as up to date as possible. So far 2016 has been an exciting season.  Round 1 was held in mid-April and we saw EVD ProAm Drivers battling it out on the ever-challenging 5/8ths bank. This track requires a wealth of experience and horsepower to tackle. Make sure to check out my round 1 recap!  Brandon Schmidt and Travis Reeder had taken the top podium spots at that round and would no doubt return to battle for more points.
With it being so early in the season it's crucial for drivers to get these points early; and with this round being on the 3/8ths bank, it would only bring more drivers to the field of competition.
The day started with open practice for all drivers. It was fun to see how different drivers approached this event. You can typically see on the faces of drivers early in the morning just how hard they have been working to prepare. Late nights in the garage are common, running on fumes and lack of sleep just to come out to drive – it says a lot. Practice time is best utilized to make any last minute changes or adjustments. More often than not, incidents happen during practice as this is the first time they are driven in weeks.
Sometimes an incident is a loud and crazy crash. However, the majority of the time it's a minor mechanical or electrical failure that is hard to diagnose. These machines have a thousand moving parts and it only takes one to end the day.  Brad Davis brought his JZ powered IS300 to DC and unveiled a stunning new look. Unfortunately, he was the first driver to succumb to problems. Issues with his ECU left him parked for the rest of the day.  I have no doubt he will be back for round 3!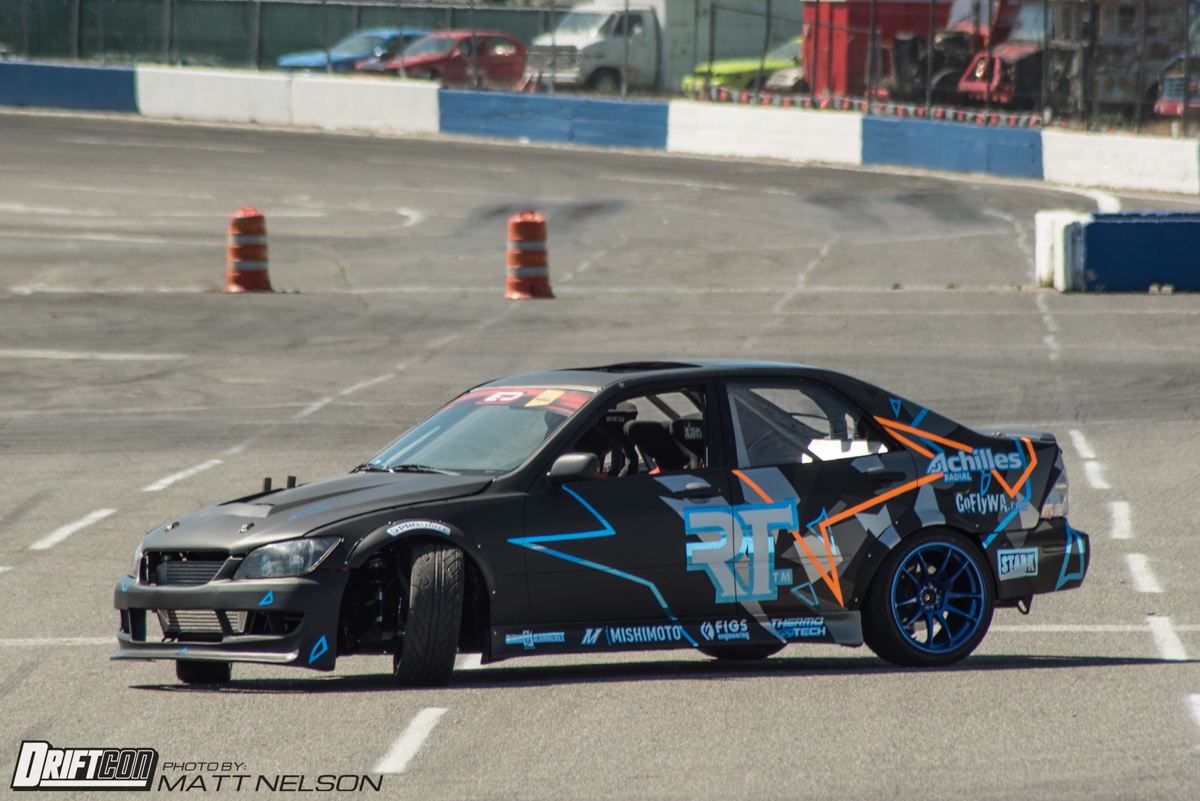 After ProAm practice we also got to see a glimpse of the Team Tandem drivers. A total of 8 teams planned on battling it out in groups of 3. Their practice session was mostly spent learning the new "peanut" infield cageless track layout and experimenting with team drift order. Who leads and who chases makes a huge difference as proximity is the key.
Of course leave it to the last-minute entries – the drifters who know how to get rowdy – Cole Werner and TJ Fry both came out to lay some smoke across the grandstands for the Hoon-Off. I'd say they were a quite successful. They both drive V8-powered 240sx's and they took home prize packages with some swag provided by Hoonigan. TJ was first, Cole took second, and Trenton finished up third.
The track was cleared one last time and Team Tandem drivers were sent out to grid. One final competition as the last bits of energy were sourced from the gallows of the pit. Team Tandem started with qualifying after a lengthy break waiting for ProAm to wrap up. Teams fell right back into rhythm quickly and top 8 bracket was set with only one team being eliminated; team Offensive Drift.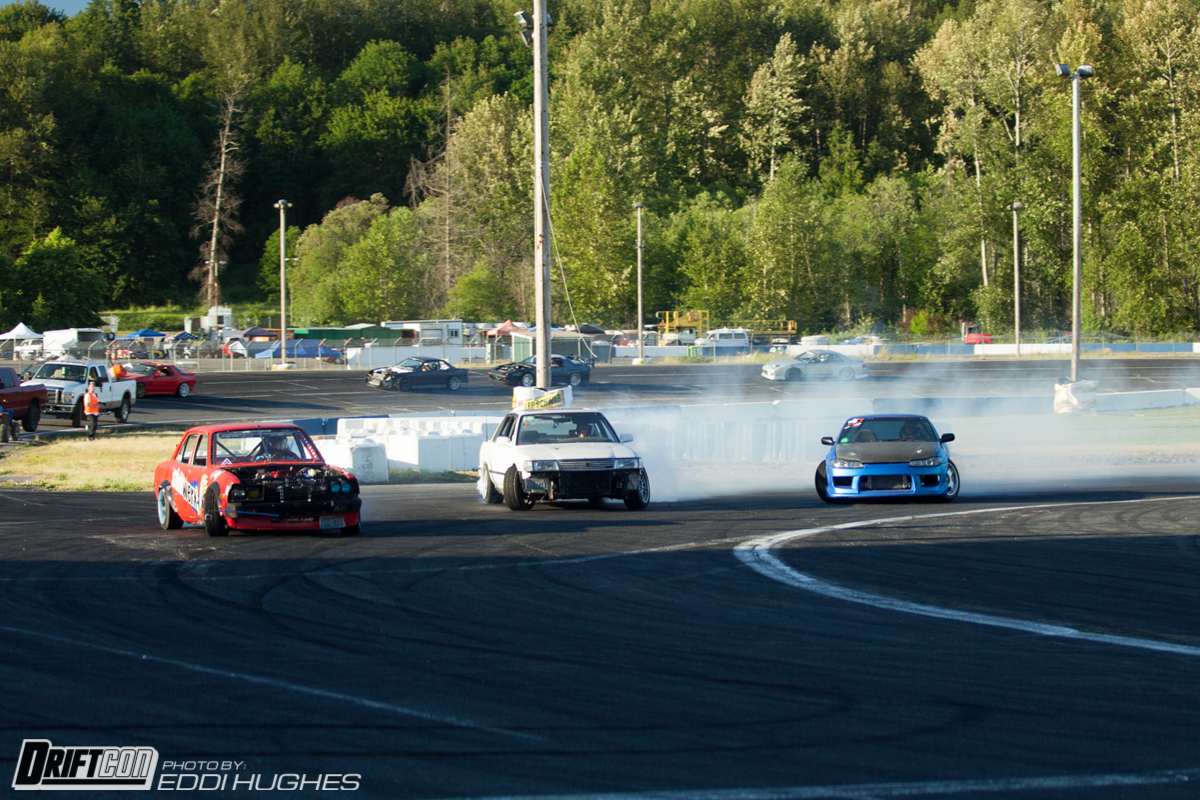 Brothers of Slide – with Kristian Watkins and Andrew Long – the pair of coupes would end up down a member with Brad Davis' car out of commission. With that disadvantage they were knocked out by Destroy The Villains in the Top 8.
Another newer team – The Rowdy Ruff Boys with Chris, Aaron, and Andrew were starting to warm up to each other. One driver spinning out in the rear of the group ended up giving the win in Top 8 to Daddy Day Care.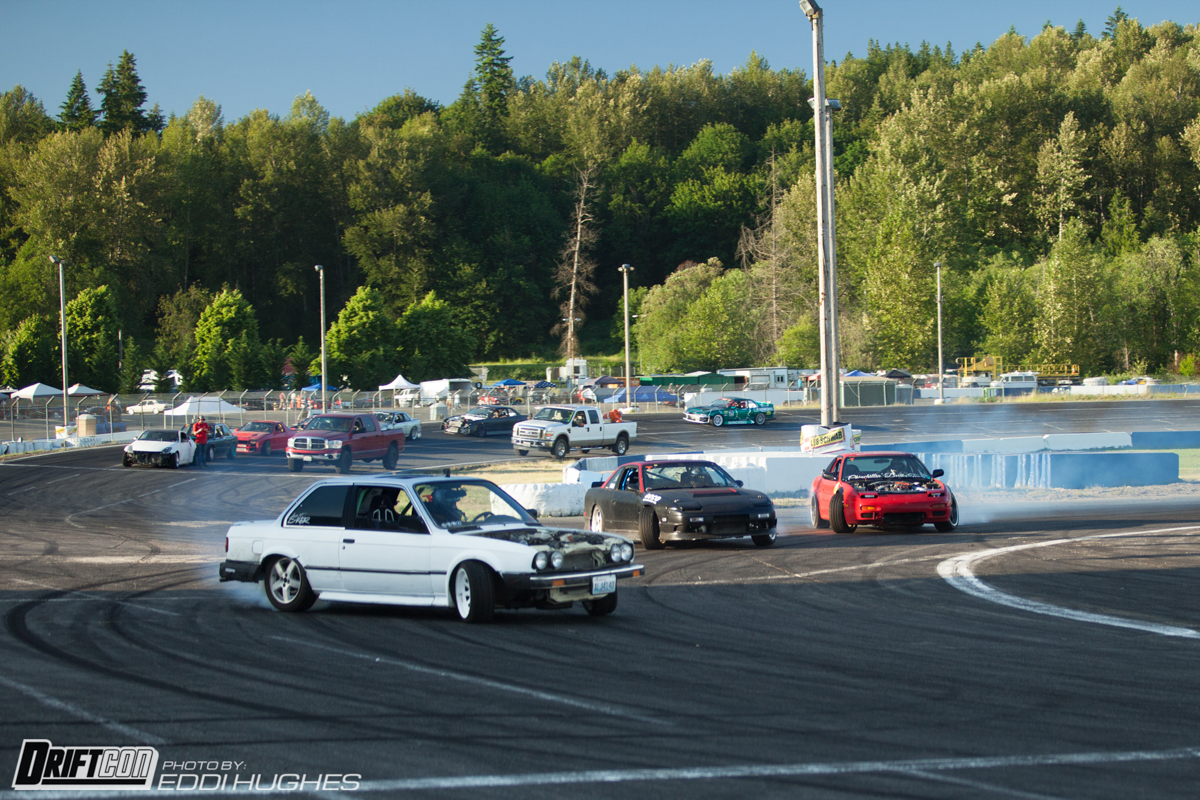 The Ratchet Slayers were another set of new faces driving together. As team tandem competitions get more popular I look forward to really seeing these drivers get more comfortable and closer with each other.
As the bracket worked into the Final 4 teams, it was clear that veteran skills and experience had left a solid group of drivers that would make it hard on the judges. Proximity was the demand and all of these teams delivered and made for an exciting end to the event.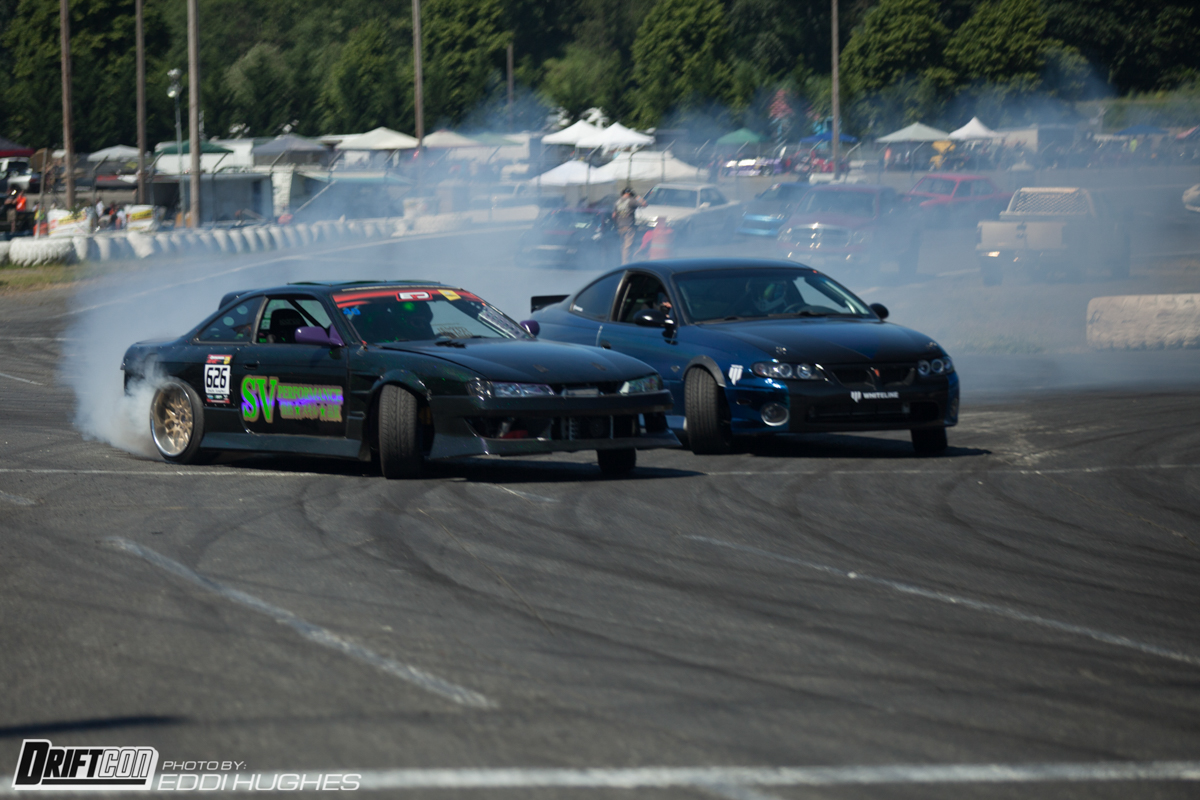 Daddy Day Care were almost able to pinch out a podium finish. The V8-powered cars of Matt Larkin, Eddy Gonzalez, and Nate Snyder were smooth and consistent all day. We hope to see them return in full force come September.
Down on practice and tired from judging ProAm, the guys of Team Destroy featuring Scott Pham of Villains put on probably the tightest tandems we saw all competition. Driving up each other's doors and knocking off bumpers. They were hands down the crowd favorite!
Cole, Zach, And Matt have been driving with each other for a while and it shows. A pair of V8 240SX's and the JZ 240SX seemed to follow each other's and keep uniform distance all day long. It just goes to show that seat time and practice goes a long way. Tandem Knights took the number 2 podium spot.
They make me cringe and caution myself every time I say their name, but they honestly couldn't be a nicer kinder and stranger group of guys. They've been driving together for a while and it shows on all four corners of their cars. These are just "bros" hands down.  Amazing driving, top podium spot, and the DriftCon Team Tandem Cup was awarded to Team Creampie.
DriftCon returns on September 10, 2016 for DriftCon Afterdark. The sun will set, the lights will come up, and the party will begin! Join the official Facebook event and stay tuned for more event information!