COST: $125 ONLINE
Includes: ProAm Entry
Reduced Drift Games Fee ($30)
CASH PRIZES
1st: $1000
2nd: $500
3rd: $250
OTHER PRIZES
1st: $100 Hawk Certificate
2nd: $75 Hawk Certificate
3rd: $50 Hawk Certificate
DriftCon Afterdark will be held on September 30, 2017 from 3pm to 10pm at Evergreen Speedway in Monroe, WA. This event is combined with round 5 of the Evergreen Drift ProAm series.
Round 5 of the 2017 EVD ProAm championship will be held on the 3/8th's track and will finish off the series with a fierce competition for the top spot in the EVD ProAm Championship. All drivers must have tandem legal cars and plan on being active in the ProAm series in order to compete. In special cases experienced drifters that have not competed previously will be invited to compete at DriftCon Afterdark.
COMPETITION FORMAT
The Evergreen Drift ProAm competition will be structured using an elimination style bracket with each round consisting of a lead and follow run for the the drivers. In the event that the battle is too close to call – judges will call for a One More Time and the drivers will have a repeat performance to determine the overall winner. Depending on the number of drivers a Top 32 or Top 16 competition bracket will be created after qualifying.
PROAM DRIFT SCHEDULE
Saturday – September 30, 2017:
9:00 – Back Gate Open / Tech Inspection
11:15 – MANDATORY ProAm Driver's Meeting
11:30 – MANDATORY Team Showoff / Drift Games Meeting
11:45 – MANDATORY MEDIA Meeting
12:00 to 1:30 – ProAm Practice
1:30 to 2:30 – Team Showoff Practice (Optional)
2:30 to 3:00 –  Drift Limbo and Big Entry Practice
3:00 to 4:30 – ProAm Qualifying
4:30 to 4:45 – ProAm Scoring Break
4:45 to 5:00 – ProAm Qualifying Meeting
4:30 to 5:00 – Team Showoff Practice / Solo Drifting (Optional)
5:00 to 7:00 – ProAm Top 16 Competition to Finish / Solo Drifting During Dead Time
7:00 to 7:15 – Hoon-Off Burnout Competition
7:15 to 8:15 – Team Showoff Competition
8:15 to 8:45 – Parking Challenge
8:45 to 9:15 – Big Entry Contest
9:15 to 9:45 – Drift Limbo
9:45 to 10:00 – Drifting & Car Show Awards Ceremony
MINI JERSEY PROAM TRACK LAYOUT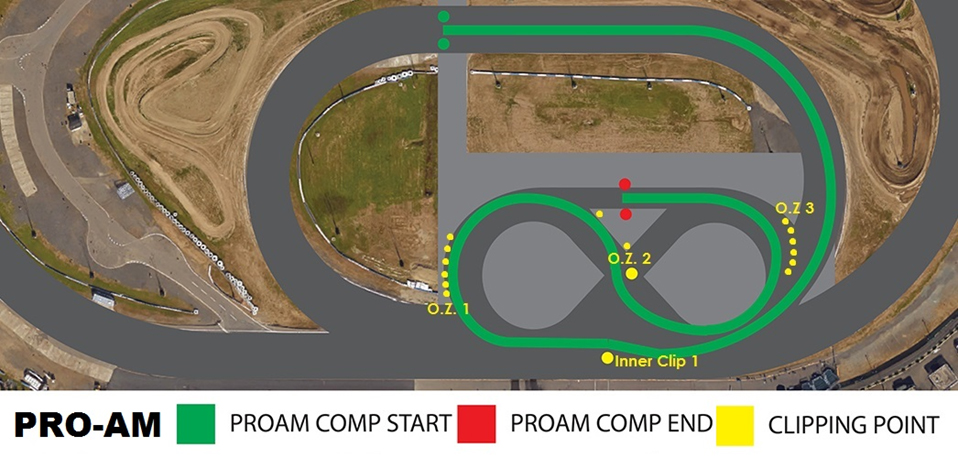 JUDGES
Shain Cannon
Aaron Leavitt
Erik Ryason
If you are competing in ProAm we highly recommend registering for Drift Games that happens after the main competition. Click below to register for Drift Games.